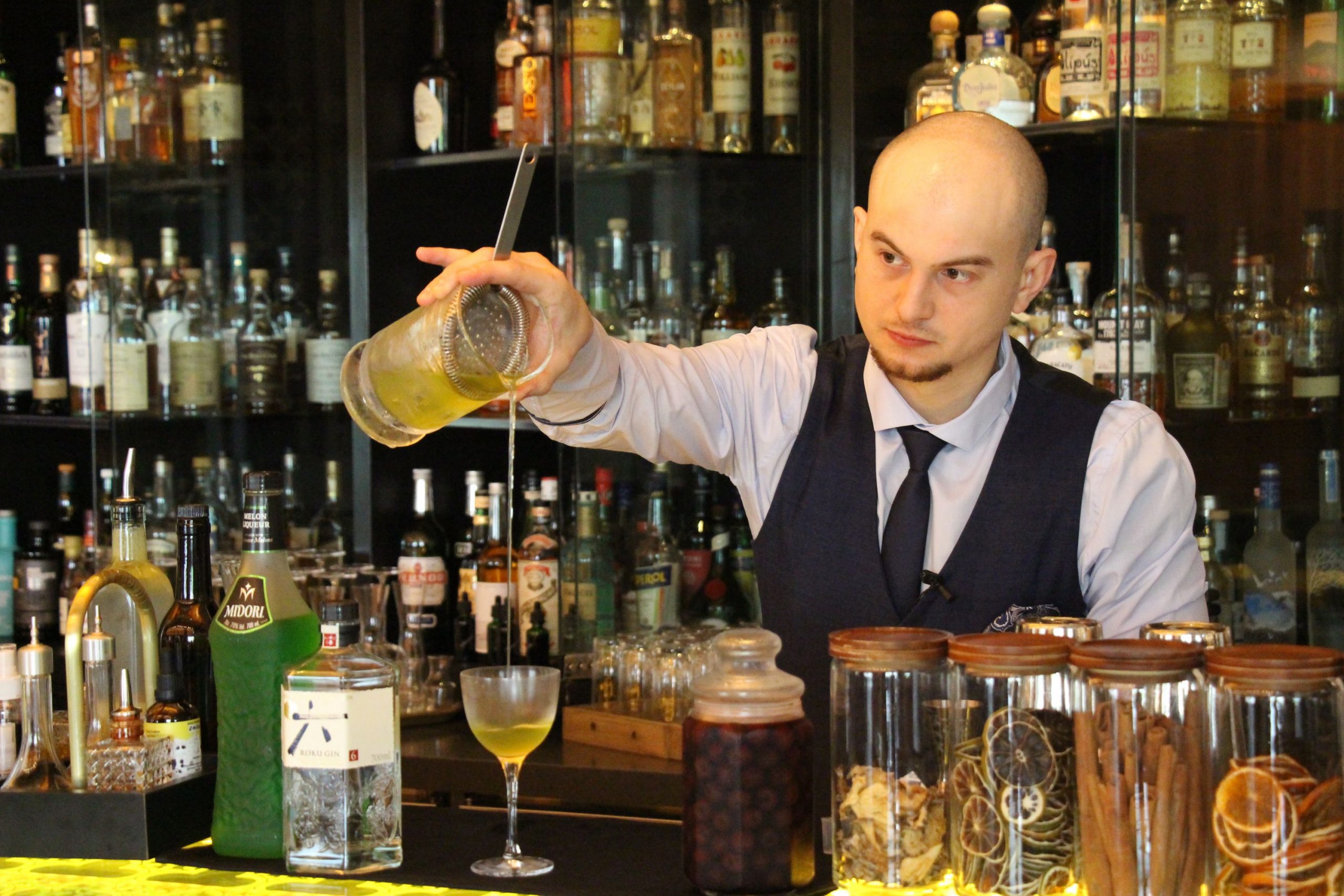 As Head Mixologist of Anti:dote at Fairmont Singapore, Anton Gornev is a true expert at his craft. With more than 8 years of experience in the art of cocktail making working in Russia and the United Arab Emirates, Gornev is thankful for the opportunity that has brought him to our Little Red Dot, and is certainly looking forward to writing even more adventures here.
We sit with him to ask him some questions.
Tell us more about yourself. How did you start this career of bartending?
I'm originally from St. Petersburg, Russia. Started my F&B career back home in 2009, working first as a waiter and slowly moving towards the bar counter. Got my first full time job as a bartender in 2013 and opened the first Four Seasons Hotels and Resorts property in Russia. After 1.5 years with the property, I managed to realise a dream I always had of working abroad and moved to the United Arab Emirates as part of the pre-opening team for Four Seasons Resort Dubai.  Almost 4 years on, I had the chance to relocate again and that brought me to Singapore. As you can see, life has been a big adventure so far!
What do you think are the criteria to be a bartender?
I wouldn't say there are specific criteria. It's understandably more  challenging for  people who don't consume alcohol as you always need to taste  everything yourself, whether it's a new kind of whisky you received for your bar and need to know how to recommend it; or a cocktail you've just made to see whether it's balanced and up to all the standards. Other than that, it's not rocket science, and most of the knowledge and experience can gained by reaching out to trusted sources and lots of self-practice.
What are your sources of inspiration?
That really depends on many factors, but I really love drinks that are inspired by famous dishes (like the Chicken Rice Martini of 'Nutmeg & Clove' or Laksa Cocktail of 'Ah Sam Cold Drink Stall'). A lot of my regular guests and friends constantly inspire me as well as everyone has their own preferences, so its kind of pushes you to think out of the box.  I also try to read up and research whenever I have free time, which always provides a good source of interesting inspiration.
What do you love the most working as a bartender?
I feel happy every day, as I'm doing something that I really love and have a deep passion for. I love meeting new people every day and being challenged by them. I also enjoy experimenting with different flavours to then see how my guests respond and react. There is no better reward than a guest's smile after the first sip of your drink.
What are some of the challenges?
As for the challenges, nothing too out of the ordinary. –The hours can be long – you always know when you start your shift but cannot anticipate what time you'll finish it. Sometimes it can get challenging when you work in a team of totally different nationalities and mentalities, but nothing time, mutual adjustment, and a willingness to compromise somewhere in the middle, cannot solve.
What do you think of Singapore's bar/drinking scene?
Honestly, one of the most interesting markets I've encountered. Singapore has quite a small territory but the amount and diversity of bars here is totally insane! In a good way of course. I don't think there is any other place in this world that has such a massive cluster of such distinct and different bars in terms of concepts and beverage programs.
Having said that, I think the local crowd (those who don't travel as much) is learning to appreciate this wave as the cocktail bar industry here is still considerably young. But it won't take long to realise that Singapore is already one of the top countries worldwide to get your tipple fix.
Tell us more about this new cocktail menu that you are working on?
Since Anti:Dote re-opened  in June last year after the lockdown, we've been so fortunate to collaborate with Chef Kirk Westaway from JAAN Restaurant, for a seasonal pop-up. It became so popular that we've decided to keep with the British theme on a permanent basis. The new cocktail menu is no different. We took inspiration from everything British – including ingredients, favourite tipples, movies and even something that Queen Elizabeth II loves the most!
Anti:Dote's new cocktail menu is available from 1 March 2021.