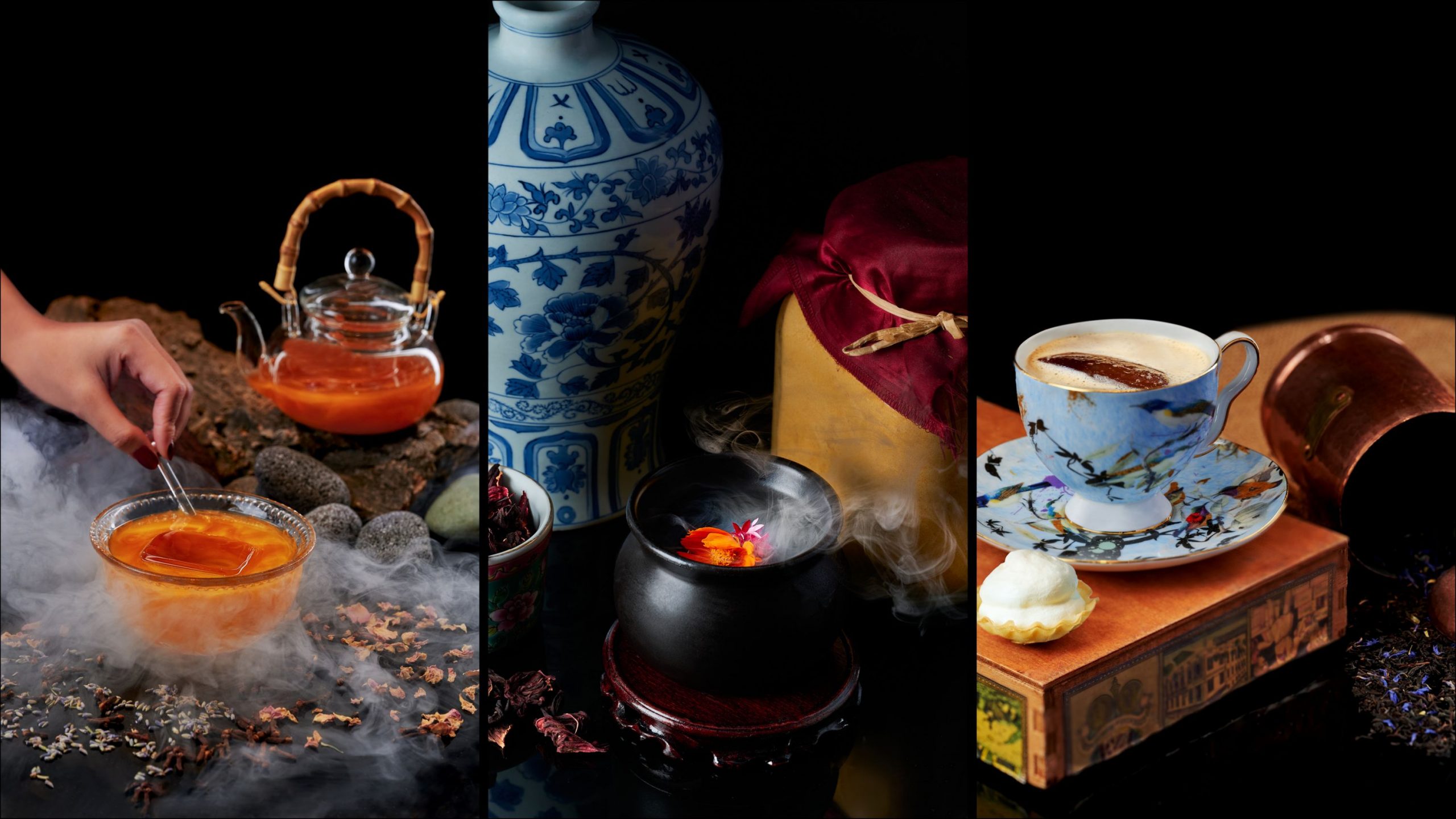 (From left to right: Wand and Potion; Ancient Love Potion; and Anna, Put That Little Finger Down! from Long Long Time Ago)
Staying true to its name, ANTI:DOTE brings back a well-loved concept made up of a progressive selection of non-conventional concoctions cleverly disguised as 'cure-alls'. The relaunched menu features a plethora of cocktails that take their inspiration from ancient and modern remedies.
Crafted by Head Mixologist Kingston Chin, the Cure-All menu consists of three sections: Long Long Time Ago is inspired by ancient remedies from around the world; Grandma Says celebrates cures inherited through the generations and Modern Times showcases the innovative mixtures of today. Alongside the new drinks menu are new tapas offerings to elevate the experience.
PART I – LONG LONG TIME AGO
Beginning with Long Long Time Ago, Ancient Love Potion (S$25) transports guests to dynastic China with an array of historical ingredients: date-infused baijiu representing energy and fertility, rosella kombucha for digestion and pink aromatised wine. The potion is served in a smoke-filled Chinese clay pot, symbolising an offering to ancestors for healthy relationships.
Wand and Potion (S$32 per glass/ S$128 per punch bowl) pays homage to the sacred cacao ceremony of Mesoamerican cultures. It is made with genever, a traditional Dutch spirit comprising botanicals such as juniper berries, anise and ginger. Cacao, a staple ingredient in ancient Mayan and Aztec cultures, is believed to have healing properties and is infused in this concoction. What makes this cocktail truly special is the presentation — served in a glass cauldron, the cocktail is accompanied by fresh herbs that guests can mix into their drink, creating their own unique potions with a true spirit of cacao.
Tea has been enjoyed for thousands of years, with the brew having numerous health benefits. The British love of tea is displayed in Anna, Put That Little Finger Down! (S$25), where Pimms and Earl Grey is mixed with Hendricks' Orbium gin, strawberry marmalade, mint and burnt orange. The vintage teacup presentation and the playful name are a nod to long-standing tea-time etiquette, but the bold flavours and modern twist make it clear that this cocktail is not your average cup of tea. So raise your teacup, and enjoy a modern twist on this timeless beverage.
PART II – GRANDMA SAYS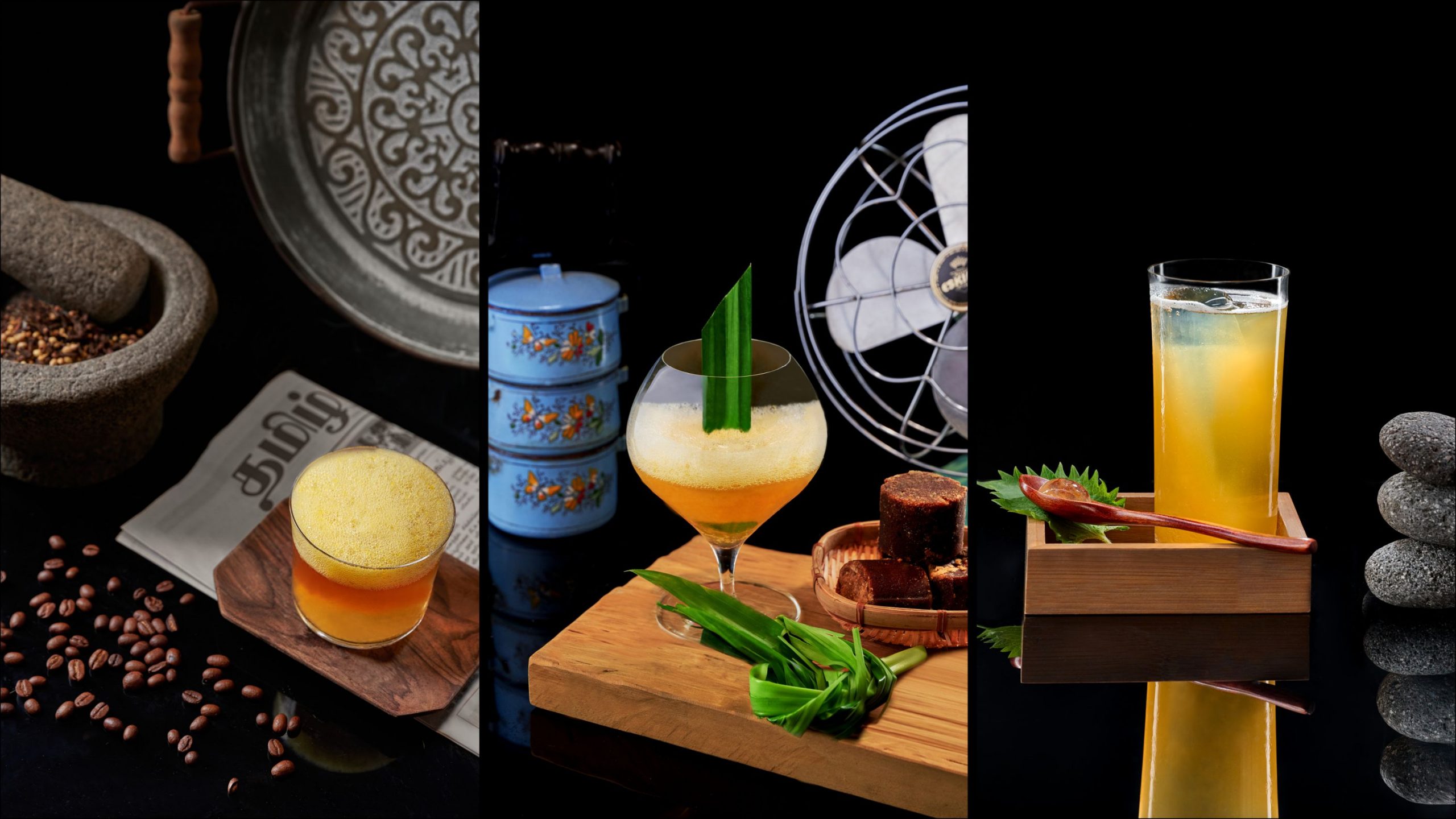 (From left to right: Ammachi's Coffee; Pandan Everywhere and Obachan's Secret from Grandma Says)
Grandma Says draws upon home remedies passed down through generations. Ammachi's Coffee (S$25) is a cocktail inspired by the eponymous ancient Indian holistic healing practice. Adding Chukku kappi, a medicinal spiced coffee made with ginger, black pepper, cumin, and cardamom, heightens the warmth in this whisky and rum-based cocktail. Kingston finishes the drink with orange ginger air, which provides a light, invigorating contrast to the rich flavours of the cocktail. For those who prefer a non-alcoholic version (S$22), Lyre's Malt and Spiced Cane provide a similar depth of flavour without the alcohol.
A carefully crafted Japanese brew, Obachan's Secret (S$25) is made with umeshu, sherry and gin with sparkling genmaicha for refreshing flavours on the palate. Completing the drink is the unique homemade umami umeboshi, a superfood in Japan that is said to boost the immune system. The pickled plum is known for its salty and sour flavour, adding a savoury depth to round off the cocktail's complex profile. Enhancing the Japanese aesthetic, the drink is served on a wooden tray next to a mini bonsai, adding an element of nature and tranquillity to the presentation, complementing the refreshing and harmonious flavours of the cocktail.
Pandan Everywhere (S$25) celebrates local flavours and the versatility of the Asian crowd's favourite plant, Pandan. Milk tea-washed Remy Martin VSOP cognac and pandan coconut fat-washed Bacardi Carta Blanca rum form the base, providing a smooth texture. The cocktail is topped with pandan rose air for a light floral note. Pandan and coconut flavours linger on the palate, making it an authentic tribute to the beloved pandan plant, known regionally throughout the centuries for its anti-inflammatory and antioxidant benefits.
PART III – MODERN TIMES
The onset of technology has completely transformed the fields of medicine and healthcare. While some ancient remedies have stood the test of time in healing common wounds and curing diseases of today, modern-day discoveries have allowed civilisations to advance to newer fields of medical studies. In Modern Times, Kingston elevates timeless cure-alls with molecular gastronomy and food innovation.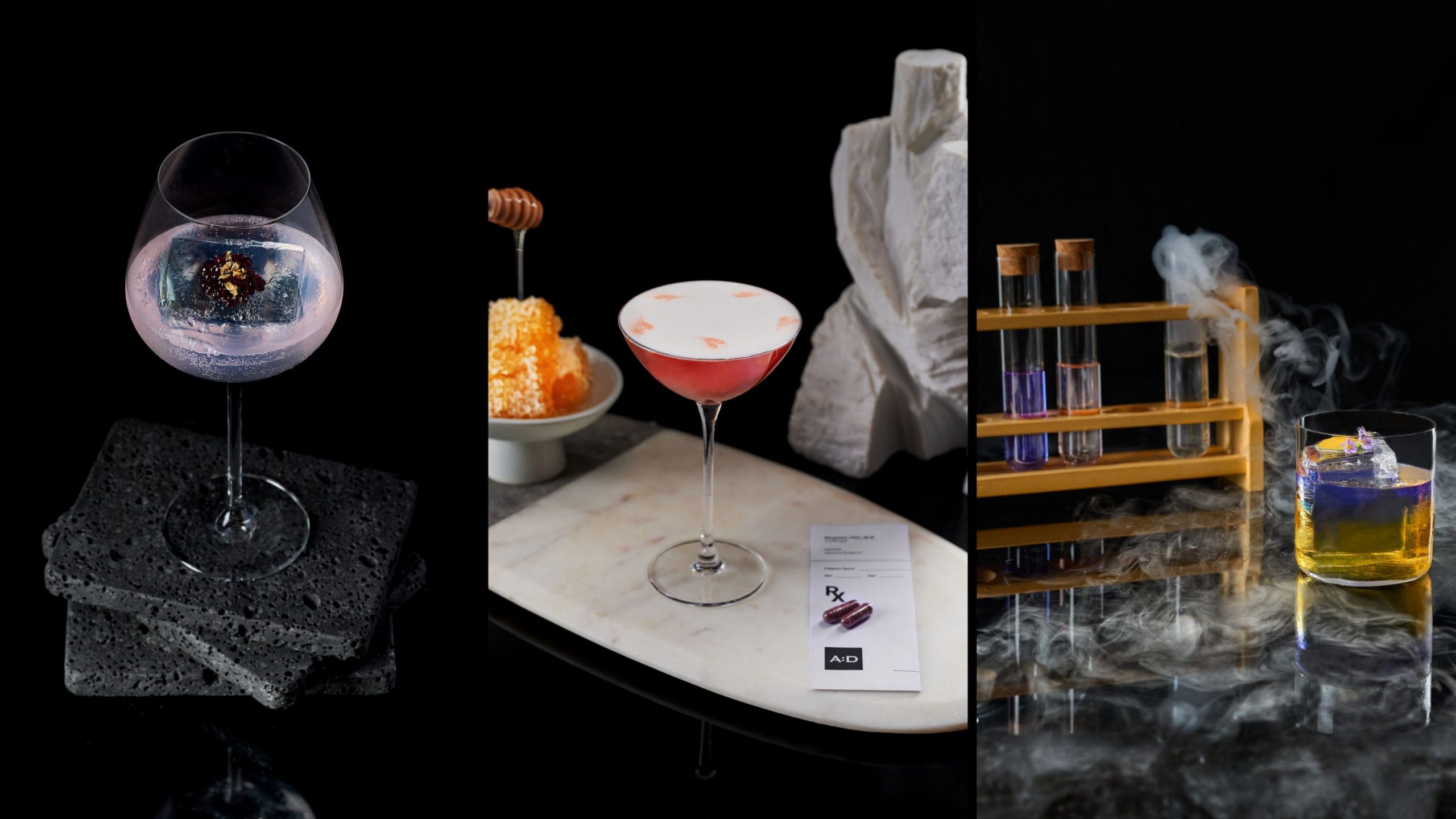 (From left to right: Déjà vu, El Padrino, and What Do You Want?! from Modern Times)
Déjà vu (S$25) is a Peruvian pisco cocktail that pays homage to traditional Peruvian drinks and incorporates quinine from a cure used for centuries to treat malaria and other ailments. The cocktail features a homemade ginger tonic infused with cinchona bark, a natural source of quinine that gives guests a glimpse into the Age of Discovery when it was brought to the Old World. The ginger tonic adds a spicy kick and a hint of sweetness, while clear lime acid provides a tartness to the mix; a refreshing contemporary tipple with historically-significant roots. A non-alcoholic version is available at S$22.
El Padrino (S$25) is a Mexican-inspired cocktail that pays homage to the powerful and influential godfathers of Mexico. This sweet and smoky drink is made with beeswax-aged mezcal, smoked honey, cherry berry mix and burnt citrus juice, all of which come together to create a complex and layered flavour profile. However, the real magic comes in the form of a handwritten prescription for two flavour-changing pills. These pills dissolve in your mouth, adding a touch of sweetness and transforming the flavours of the cocktail, akin to how a godfather's influence can be life-transforming. With El Padrino, we invite you to indulge in a cocktail that is as bold and daring as the Mexican godfathers themselves.
What Do You Want?! (S$25) is a one-of-a-kind cocktail that offers a playful twist on the Italian classic Negroni Sbagliato, which was originally created by mistake. This build-it-yourself concoction comes with three test tubes containing butterfly pea-infused rum, sakura vermouth, suze and pear cordial. The vibrant colours and unique flavours of each ingredient blend together for a visually stunning and scientifically scintillating drink.
Fairmont Singapore and Swissôtel The Stamford's Managing Director, William J. Haandrikman, expounds on storytelling in the latest menu: "Creativity and innovation permeate every aspect of the Fairmont experience. We hold ourselves to the highest standards, and the bar team's keen eye for attention to detail and taste is found in each and every cocktail on the menu. I am truly proud of the team's dedication to pushing past boundaries and creating an impressive menu honouring our namesake roots of age-old cure-alls."
"We're showcasing innovative mixology techniques," says Kingston Chin, ANTI:DOTE's Head Mixologist, "most drinks involve sous-vides, overnight infusions, smoking, air foam, and other techniques to introduce interesting new flavours and textures. Cure-All was a labour of love, and I'm excited to put forward remedy-inspired drinks with global influences to our guests."
NEW TAPAS MENU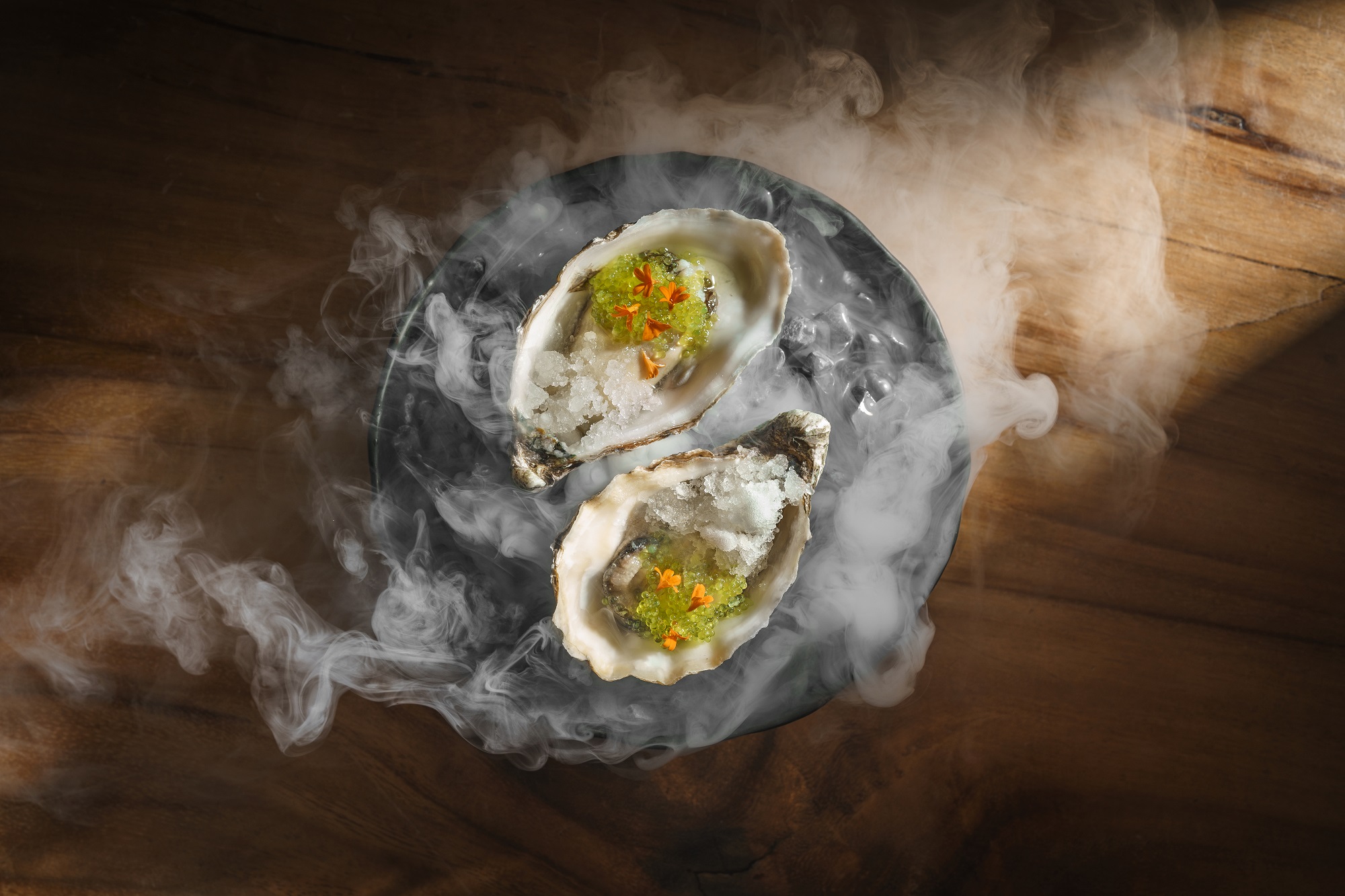 (Irish Oysters No3)
ANTI:DOTE will also be unveiling a brand new evening tapas menu, offering a variety of sharing plates which pairs perfectly with the cure-all cocktails to tantalise taste buds. Indulge in the Joselito Paleta Ham (S$26) with Spanish crystal bread for a rich, buttery flavour and crunchy texture. The Hokkaido Scallop Dumpling (S$24), with peanut tofu, Kristal caviar and Irish Oysters No3 (2 pieces at S$16 and 6 pieces at S$48) lends a subtle taste of the ocean. Vegans can relish the Smoked Baby Aubergine (S$15), served with red pepper mascarpone, macadamia nuts and Japanese pentas flowers grown in the hotel's very own on-site Aquaponics farm.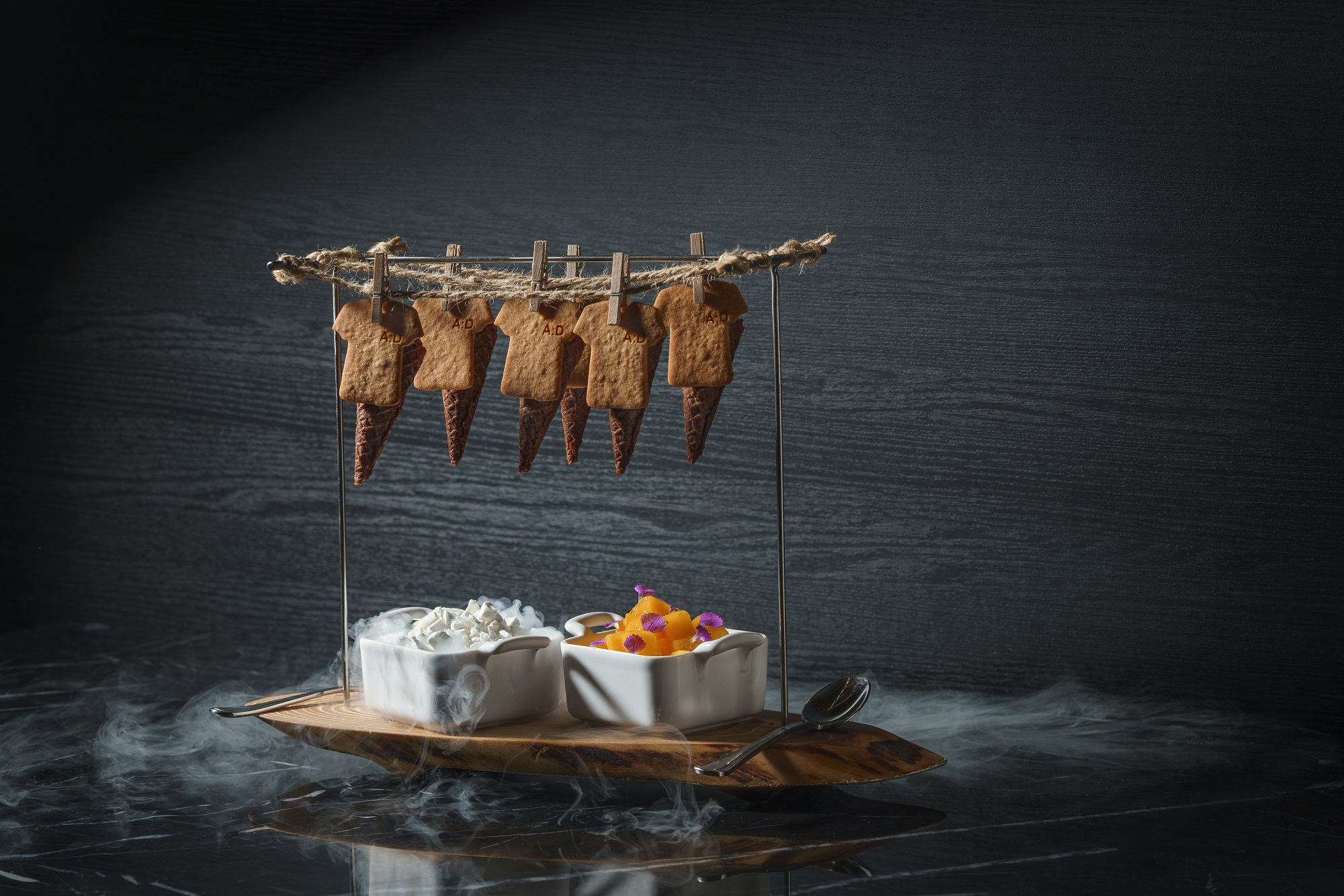 (Chilli Cocoa Waffle)
Desserts are also a special affair. A perfect complement for cocktails is the Chilli Cocoa Waffle (S$18), paired with chilli in a crispy cornet for a delightfully spicy crunch. For a tropical burst of flavour, order the Tropical Fruits (S$16) that consists of passion fruit, coconut, banana and pineapple.
For booking enquiries, please call 6431 6156 and email dining.singapore@fairmont.com.
For more information, visit https://www.antidotebar.sg