Razer Gamecation
Round up your friends & family for a staycation at Fairmont Singapore and play at the world's first luxury gaming suites!
Book your stay at our Fairmont Room and enjoy a 2-hour gaming session in selected Razer Gaming Suite for up to 6. Guests can also bring home a pair of Razer Sneki Snek Eye Masks (worth SGD$93.80). For the sale of every Sneki Snek merchandise, part of the proceeds will also go to helping Conservation International save 10 trees.
For your gamecation, choose between our three luxury suites which have been transfor  v med into gaming rooms that features Razer's award-winning peripherals - Razer Gamer & Streamer Suite, Razer Mercury Suite and Razer Console Lounge.
Rates from SGD650++.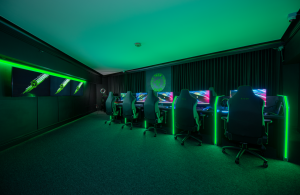 Razer Gamer & Streamer Suite
Complete with 5v5 battle stations and blackout shades, this definitively-Razer gaming den is a LAN experience with widescreen monitors and luminescent green LED light strips that will make anyone feel like an esports pro about to enter their first-ever tournament. Gamers can be assured of playing in comfort as the Razer Iskur, an ergonomic gaming chair with a built-in, fully adjustable lumbar support system, helps them safeguard and improve posture during gaming sessions. Fitted with Razer peripherals and hardware, the suite allows ten players to come together IRL to finesse their games or pit their skills against one another. There is also a streaming booth for live commentary of the gaming session as it happens.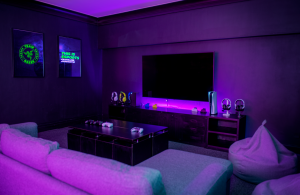 Razer Mercury Suite
Step into the luxe lounge area with plush sofa and bean bags, jazzed up with the latest Xbox and Playstation 5 consoles, along with Razer Wolverine V2 Chroma controllers that will set players up for some epic fun in their goal-chasing quests.  Beginners and casual gamers can pick from a slew of Triple A games from Xbox Game Pass and watch their gameplay unfold on the giant 70-inch TV screen. Those who want to exert true console dominance can put on the Razer Kaira for Xbox wireless headset that provides superior audio immersion and crystal-clear voice communications.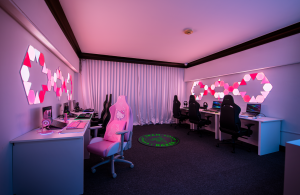 Razer Console Lounge
Illuminated with fun, customisable colour-changing light panels that add flair to the 3v3 gaming set-up, this suite is a gamer and streamer's paradise fitted with the latest Razer technology.
More information on our Razer Gaming Suites can be found here