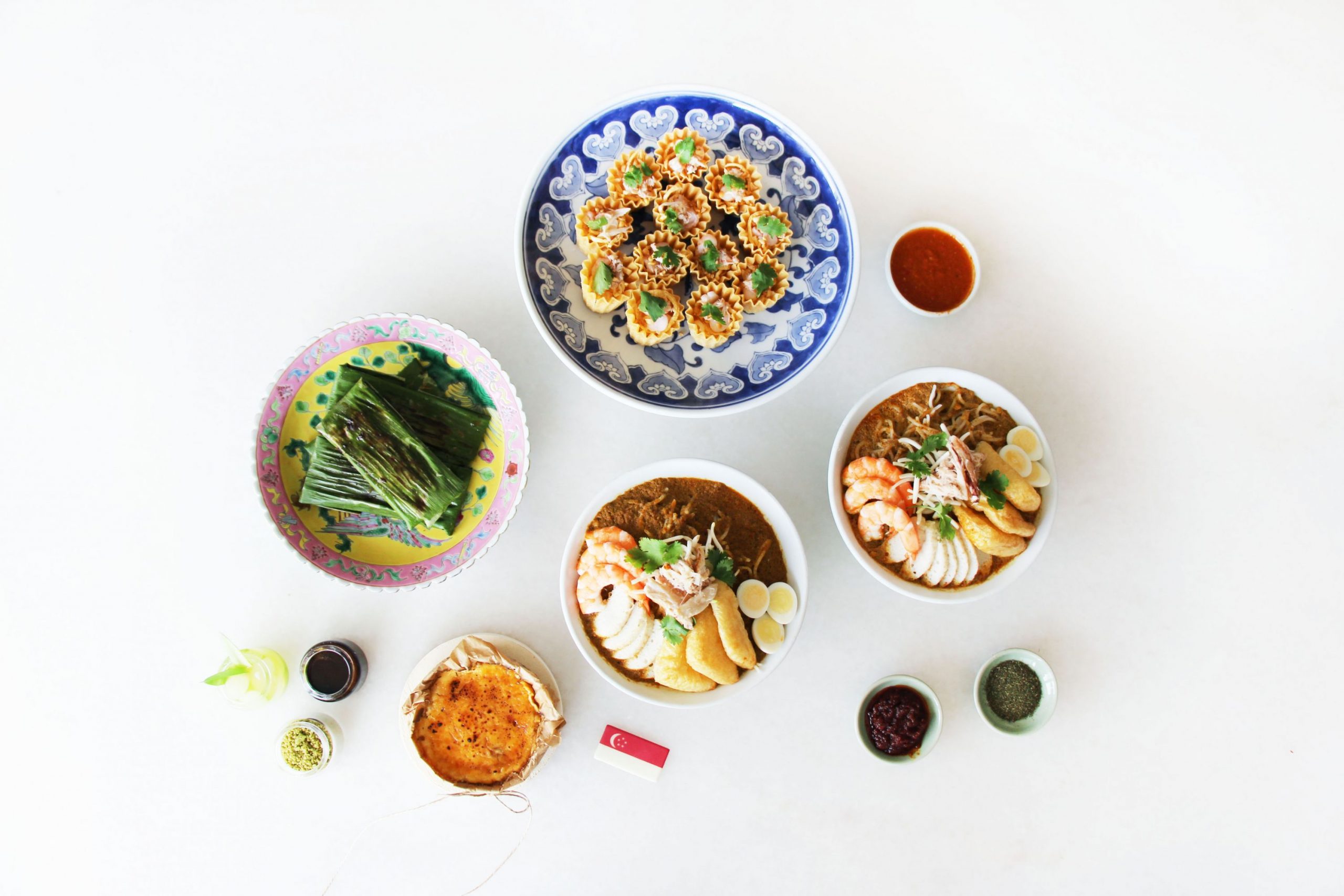 Celebrate Singapore's 55th birthday with our National Day Recipe Kit developed by our award-winning culinary team at Fairmont Singapore & Swissôtel The Stamford. Enjoy local flavours which include Grey Prawns Kueh Pie Tee, Traditional Laksa with Singapore's Sea Gems and Burnt Pandan Cheesecake. #FairmontAndSwissotelFoodAtHome
With our easy-to-follow recipe and quality ingredients, our recipe kit has everything you need to conveniently prepare a meal in the comfort of home.
Shop Online for National Recipe Kit Bundle (S$88)
Share and tag us in your creations on Facebook or Instagram.
GREY PRAWNS KUEH PIE TEE
Braised Sweet Turnip, Steamed Grey Prawns, Chopped Egg, Coriander, Crushed Peanuts, Crispy Pastry Cups, Chilli (Serves 2)
Level: Easy* | Estimated Time: 20 minutes | Download Recipe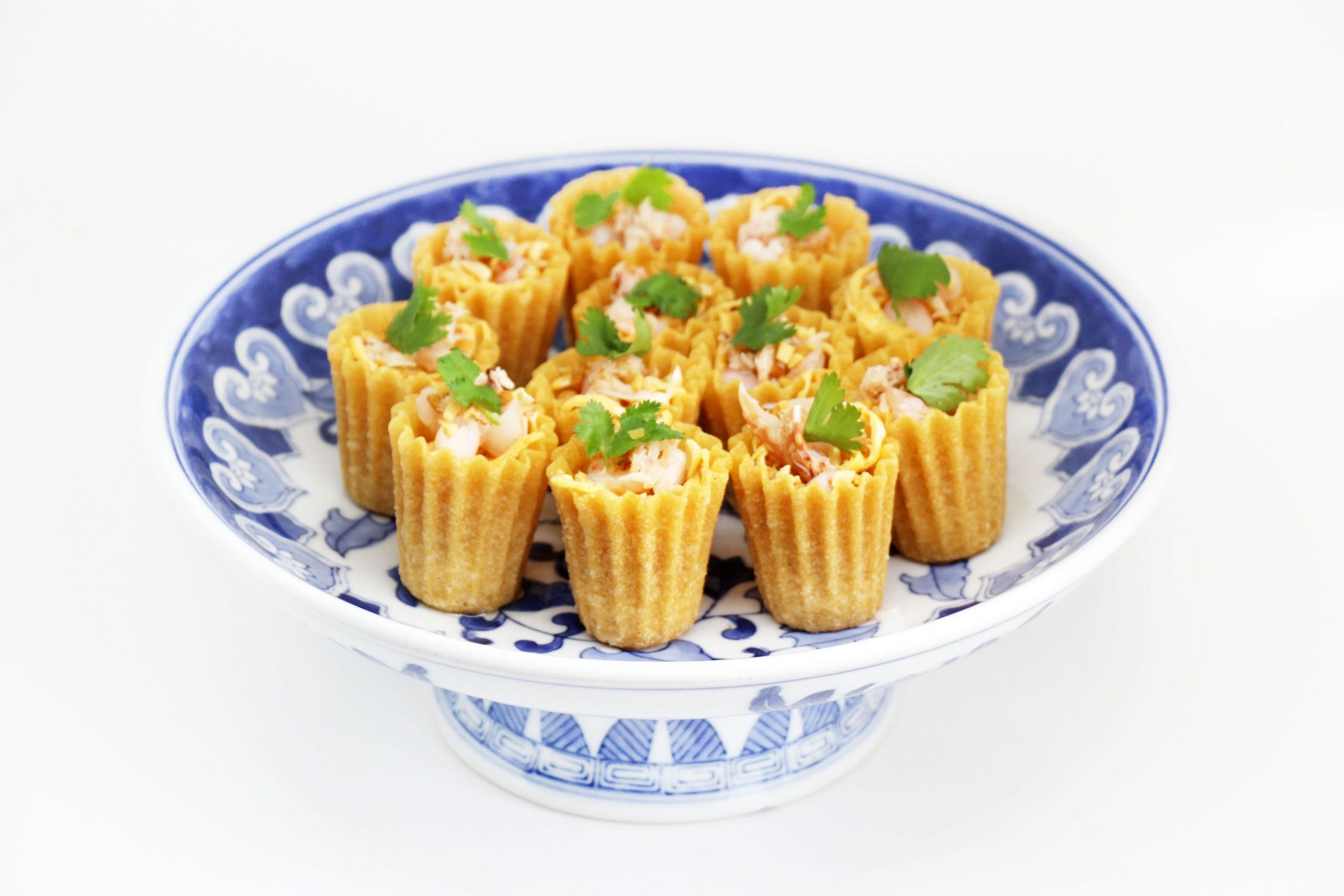 Ingredients: 300gm Braised Turnip Premix, 140gm Grey Prawn (cooked), 2 pcs Hard-boiled Egg, 1 sprig Coriander, 30 gm Chilli Sauce, 50gm Peanuts (crushed), 18 pcs Crsipy Pastry Cup
Method:
1. In a pot, heat up turnip premix to boil, then set aside. Ensure to remove excess water from turnip.
2. Chop boiled eggs. Transfer all condiments to individual small bowls and set aside.
3. To assemble and serve, fill 1 tsp of turnip into each pastry cup, followed by prawn, eggs, chilli, peanuts and garnish with coriander.
TRADITIONAL LAKSA WITH SINGAPORE'S SEA GEMS
Homemade Crabmeat-Snapper Otak Otak, Spicy Coconut Broth, Bean Sprouts, Taupok, Sambal, Quail Eggs (Serves 2)
Level: Easy* | Estimated Time: 20 minutes | Download Recipe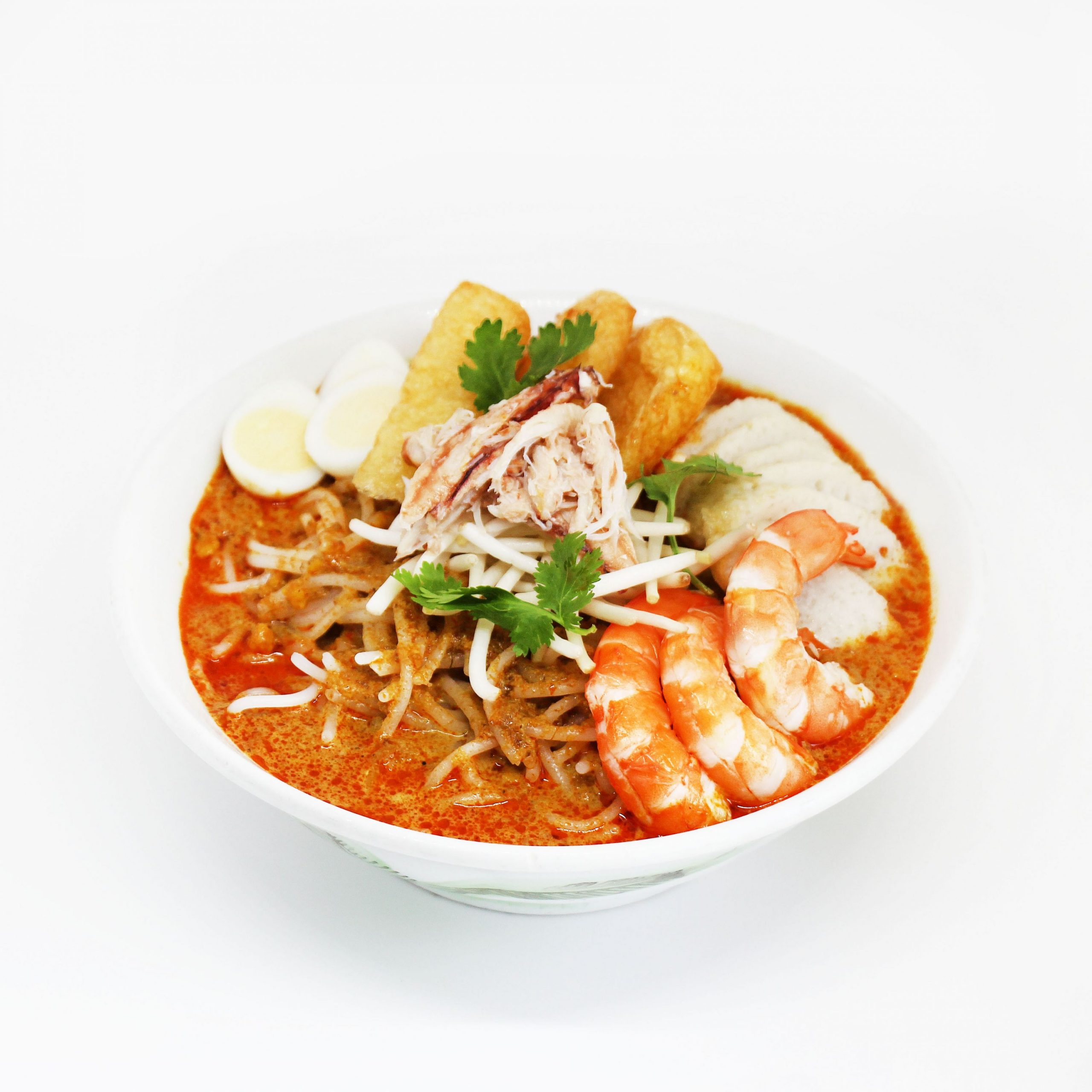 Ingredients: 300gm Laksa Noodles, 2 pcs Crabmeat-Snapper Otak (cooked), 6 pcs Prawns (cooked & halved), 4 pcs Quail Egg (hard-boiled), 500gm Spicy Laksa Broth Premix, 50gm Coconut Cream, 30gm Bean Sprouts, 60gm Fish Cake (cooked & sliced), 6 pcs Taupok (fried beancurd), 50gm Sambal
Method:
1. In a pot, warm up laksa broth premix on medium heat. Add in taupok and bring to medium high heat. Stir in coconut cream and keep warm.
2. Heat up oven to 180°C. Warm up otak otak for 10 minutes, set aside and keep warm.
3. Bring pot of water to boil. Transfer noodles, bean sprouts, quail eggs, sliced fish cake, prawns to a noodle basket. Blanch for 20-30 secs to warm the ingredients. Drain the noodles and transfer to a serving bowl.
4. To assemble and serve, scoop laksa broth over the noodles and serve with sambal chilli & otak otak on the side.
BURNT PANDAN CHEESECAKE
Palm Sugar, Attap Seed Compote (Serves 2)
Level: Easy* | Estimated Time: 10 minutes | Download Recipe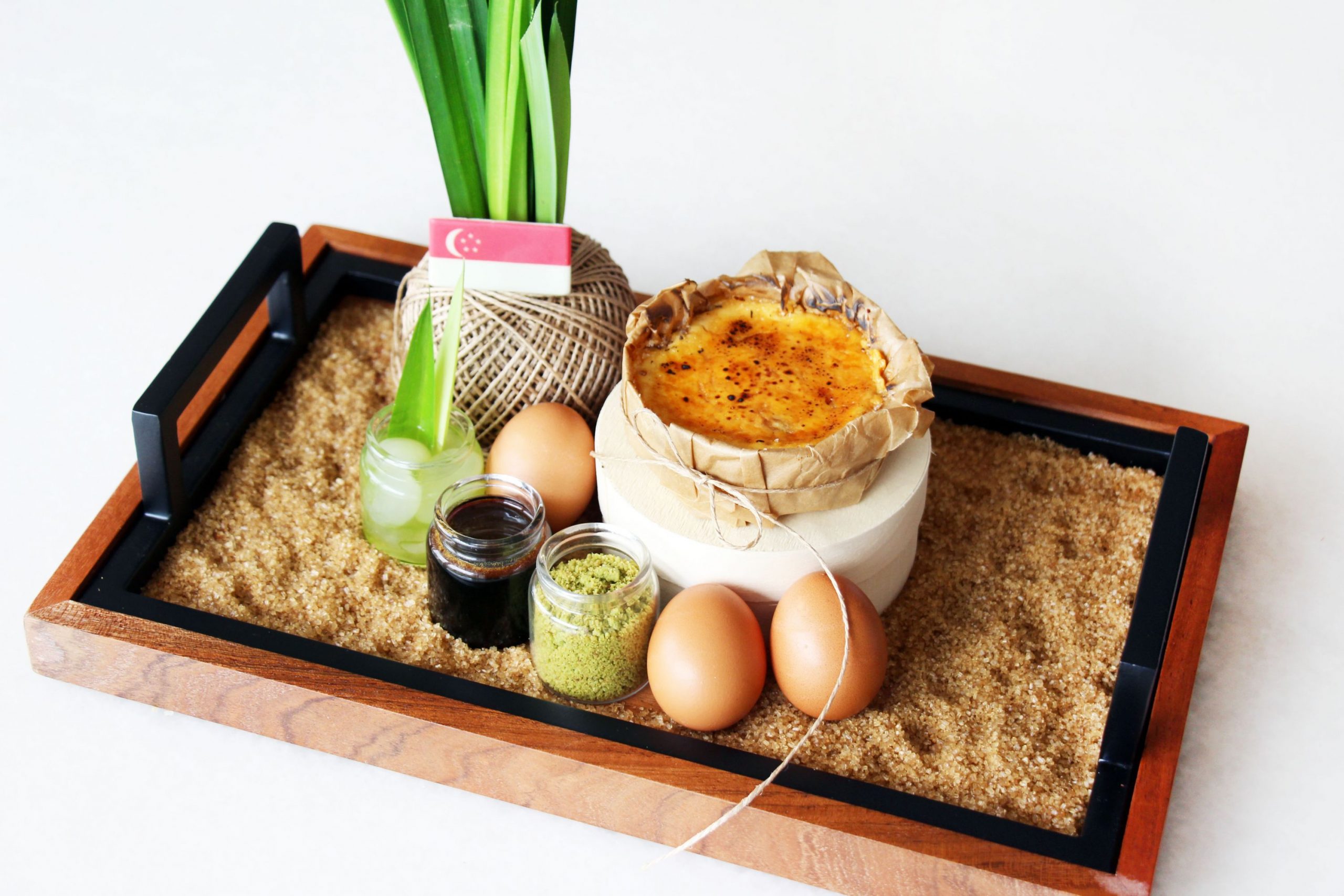 Ingredients: 1 pcs Burnt Pandan Cheesecake, 60 gm Attap Seed Compote, Garnish Décor
Method:
1. Transfer cake to a serving plate and decorate with attap seed compote or serve on the side. Serve chilled.