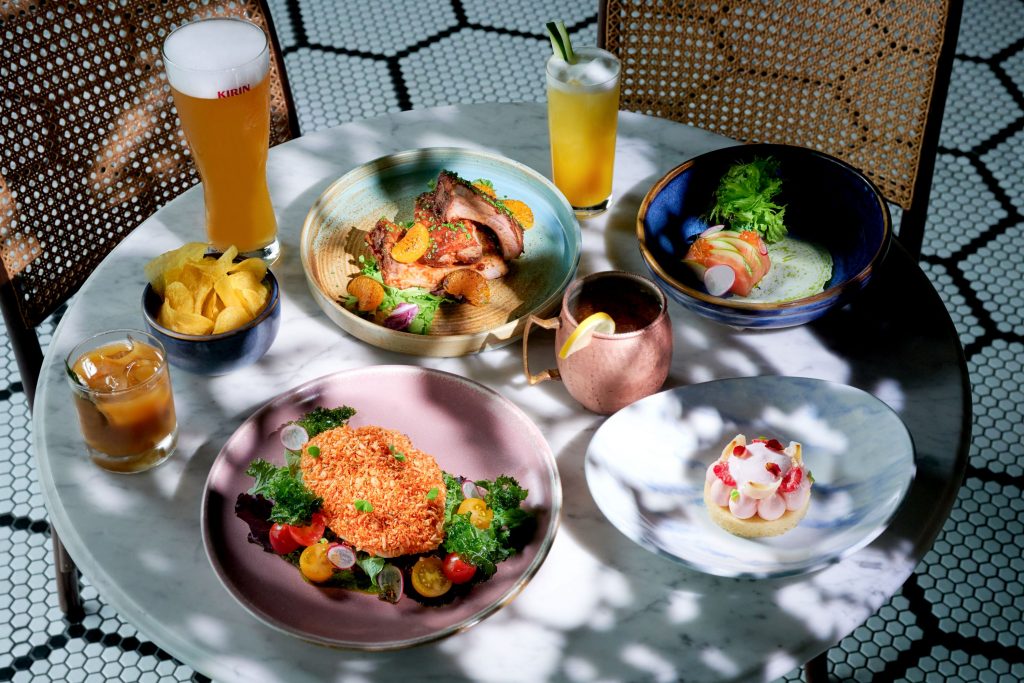 From 26 July, The Stamford Brasserie, a multi-concept restaurant and bar with a charming Parisian bistro ambience welcomes guests back to indulge in classic familiar favourites as well as exciting new additions from a hearty menu selection. Featuring a Bistro Dining Restaurant, Beer Bar and a convenient Grab & Go, diners can once again look forward to a convenient and versatile spot for affordable gourmet meals on-the go as well as fresh whole fare and unique craft beers. Whether it's a quick business breakfast, a long overdue catch-up or a post-work sundowner, The Stamford Brasserie is your perfect place for the hour and occasion.
The chefs at The Stamford Brasserie have upped the ante by using popular dishes from past menus as the starting point, building up on fan favourite classics to derive their latest delectable offerings.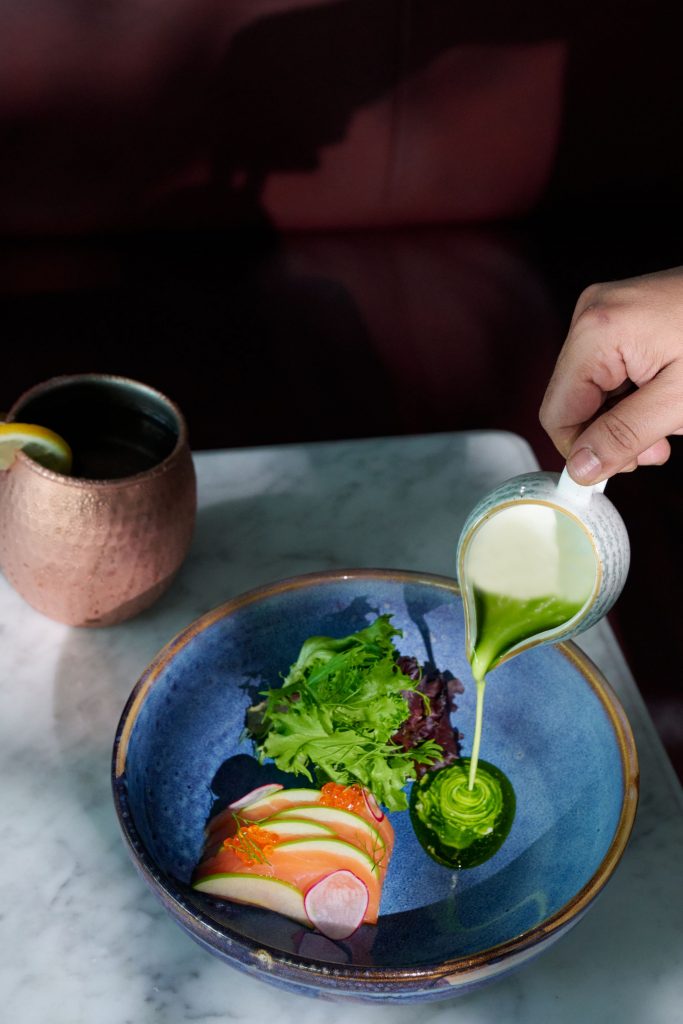 TSB Salmon Gravlax
For a delightful lunch or dinner with colleagues and family, begin with starters such as the nutrient-packed and vegan-friendly Super Food Salad ($18) featuring kale, quinoa, yeast flake, avocado, berries and tossed in vibrant pomegranate vinaigrette or the Butcher's Meat Board ($28) which comes with parma ham, pork salami, ham, onion jam and toasted brioche, perfect for the meat lovers. The homemade marinated TSB Salmon Gravlax ($24) recommended by the chefs comes paired with Granny Smith Apple that adds some acidity to the dish to cut through the taste of salmon as well as Radish and Trout Roe. The herbs and salad are sourced from the hotel's very own urban aquaponics farm*.
TSB Baked Pork Ribs
Satiate your cravings with mouthwatering mains such as the classic TSB Baked Pork Ribs ($33) that has proven to be the crowd favourite. The succulent ribs which come with a side of potato chips are back on the menu, brined with fresh herbs and spices and then slow cooked, before being glazed with Grand Marnier jus. The Wagyu Beef Burger ($30) loaded with tomato, lettuce and gherkins in a pepper brioche bun and topped with truffle mustard also serves to be a great choice for a hearty and savoury meal.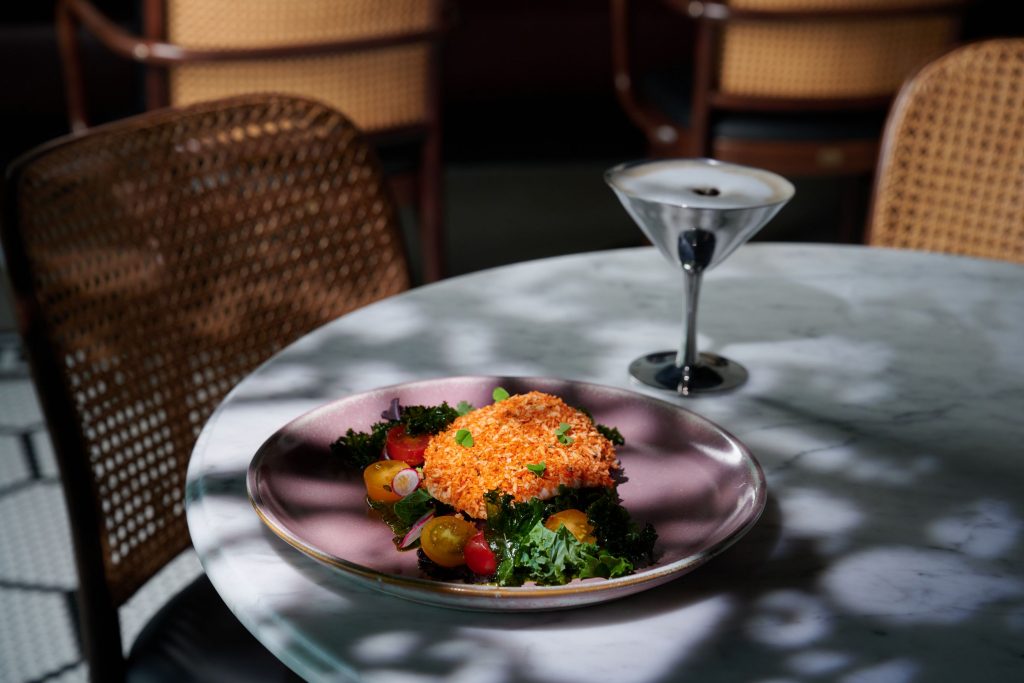 Aquaponics Tilapia
Fresh from the hotel's Aquaponics Farm, guests can enjoy the Aquaponics Tilapia ($30), coated with cayenne herb crumbs and accompanied with fresh Aquaponics salad, tomatoes and a generous drizzle of salsa verde. Those looking for a lighter dish may opt for the Corn Pasta ($26). Gluten-free spaghetti is blanched and then mixed with a sauce made from sweetcorn which is roasted to obtain the most flavour. The pasta is then tossed with more burnt corn, crispy corn and fresh chives for that delicious crunch.
Round off your meal and unwind with some boozy beverages at the Beer Cart. You'll be spoilt for choice by the varieties of TAP Craft Beer & Bar such as Blue Star, Saison Dupont, 420 Extra Pale Ale (USA) and many more that are the perfect thirst-quenchers after a long day. Complete your happy hour with bites such as TSB Chicken Wings ($18), beer marinated chicken wings coated with homemade hot sauce or Mixed Olives ($12) that come seasoned with fresh citrus peel, herbs and smoked paprika.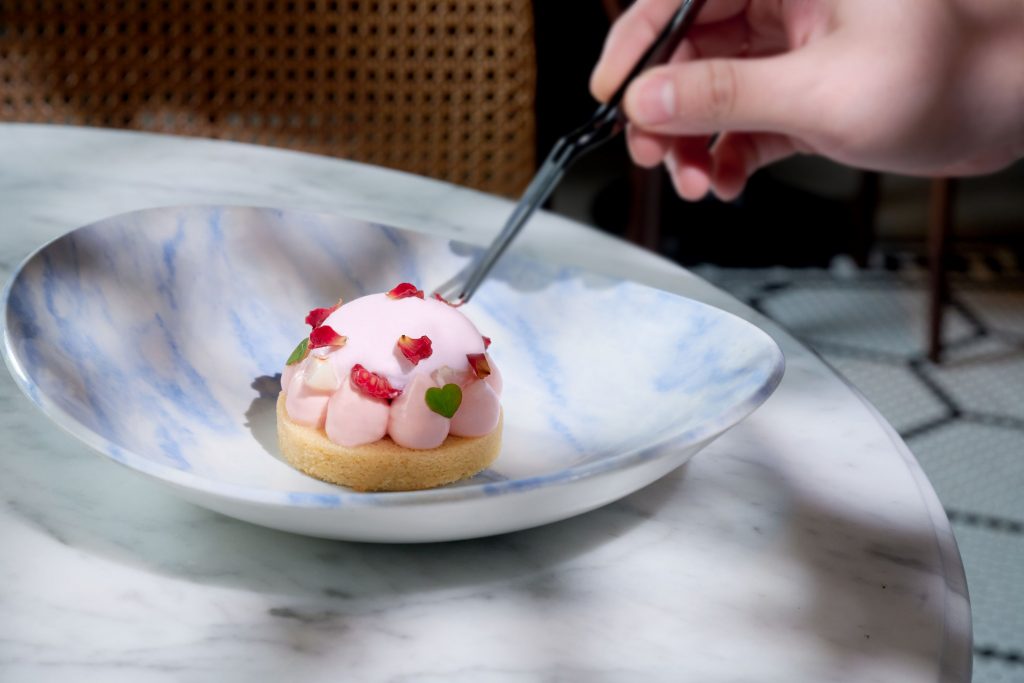 Ispahan
To sweeten your dining experience, enjoy decadent desserts that will melt on your tongue like the Chocolate Molten Tart ($14), a warm cocoa tart with sea salt soil or Ispahan ($14), a moist and delicately scented raspberry lychee cake topped with milk rose foam and served with a scoop of yoghurt gelato.
For those in need of a quick fix, you can easily get yourself a steamy cup of Cappuccino ($6.50) or a freshly steeped tea from the finest TWG Tea selection ($6.50) at The Stamford Brasserie's Grab n Go counter available from 8am to 5pm daily. Pair that with a delicious and flaky Butter Croissant ($4) or a hearty serving of Potato Chicken Pie ($8) for the perfect breakfast or tea break to go.
Make a reservation here