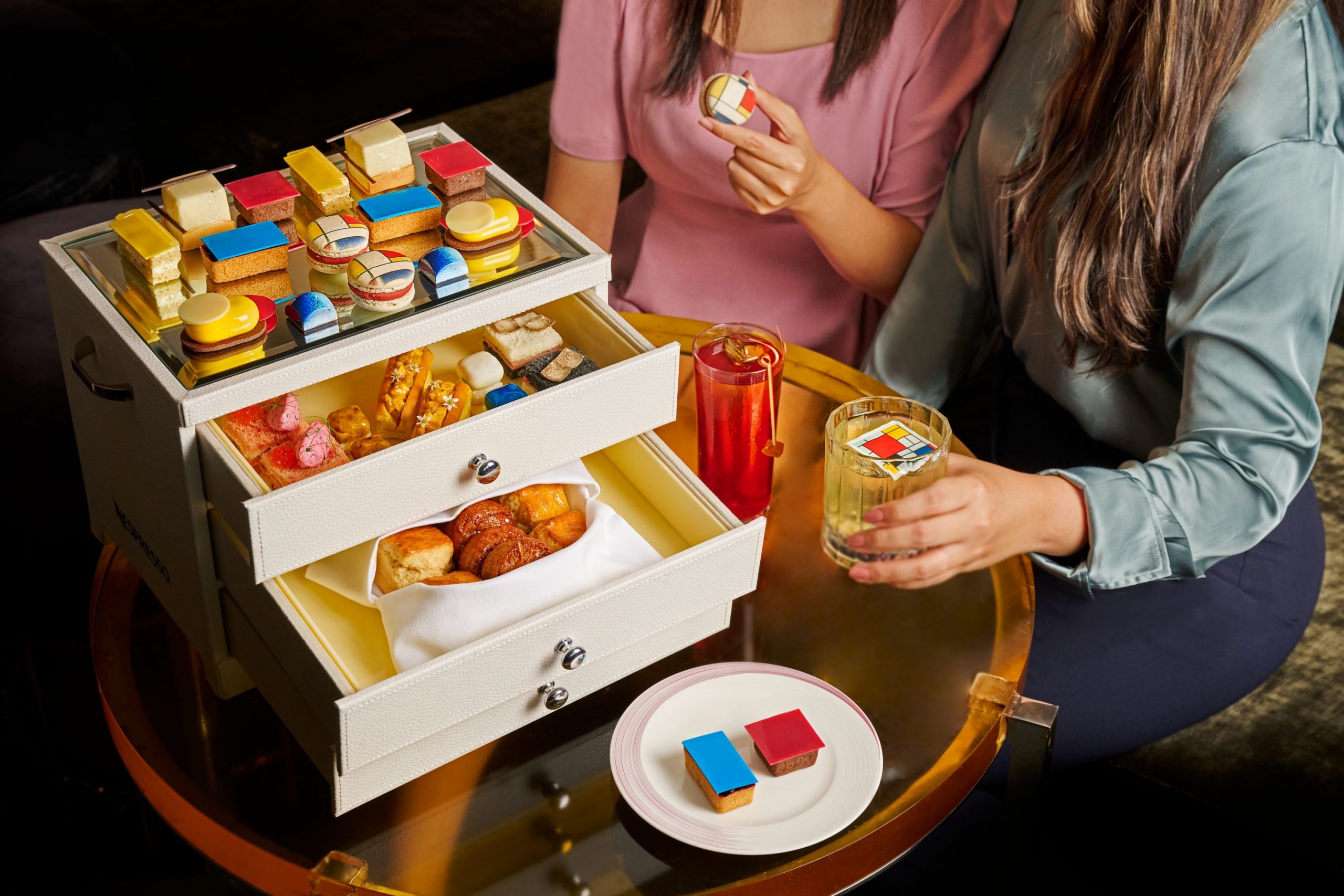 SINGAPORE – 26 October 2023 – Collaborating with ARTiSTORY and Museum of Fine Arts, Boston, ANTI:DOTE proudly introduces the culminating chapter of its four-part series of art-inspired afternoon tea experiences. "Rhapsody of Modernism", inviting guests to delve into the bold, captivating world of the trailblazing 20th-century abstract artist, Piet Mondrian. This experience follows the series of successful afternoon teas inspired by the great impressionists Vincent van Gogh, Claude Monet, as well as one of Japan's best-loved artists, Katsushika Hokusai.
From 1 to 30 November 2023, guests can enjoy art over a creatively designed menu of well-crafted savoury and sweet treats that pay homage to Piet Mondrian's iconic compositions featuring bold primary colours and geometric precision.  The experience will be available at ANTI:DOTE daily from 3pm to 5pm; with an additional session from 12pm to 2pm on Saturdays and Sundays.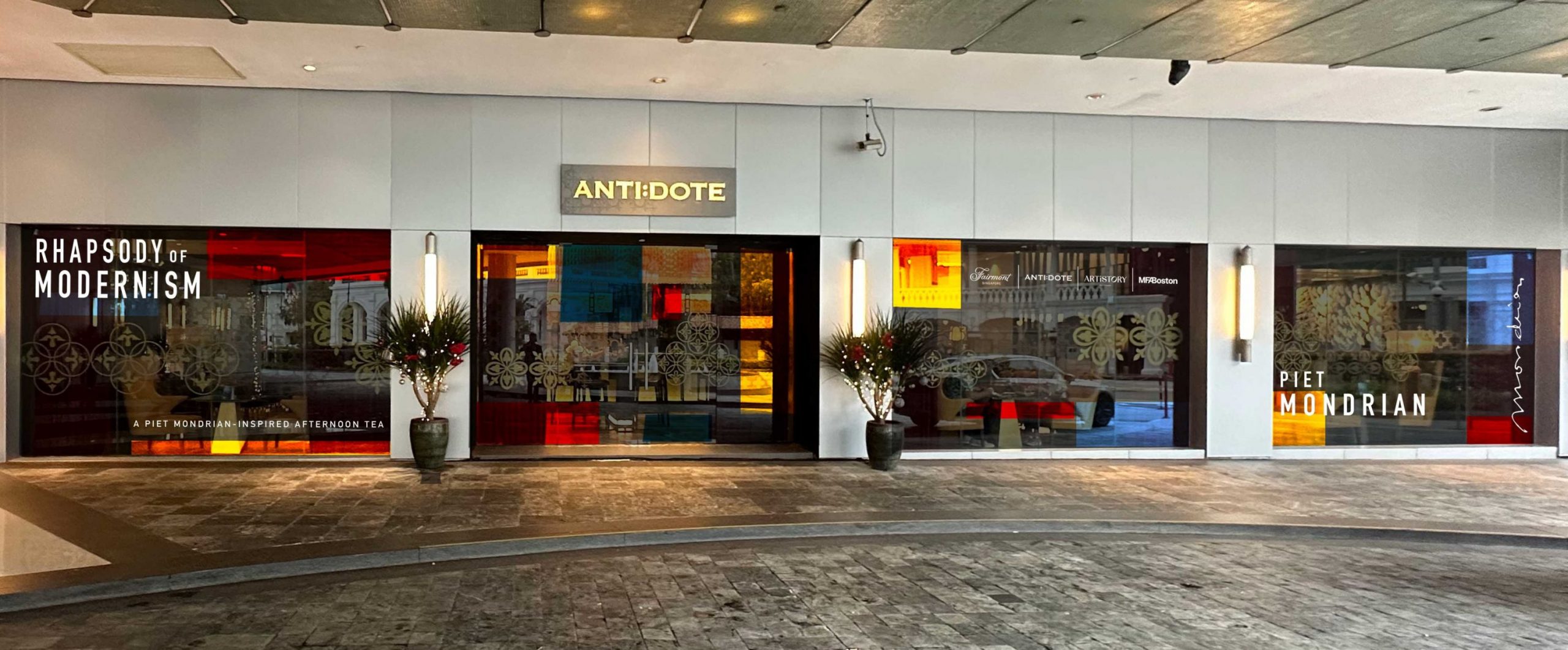 ANTI:DOTE will once again be transformed into an immersive dining venue, offering a captivating tribute to Piet Mondrian's illustrious career and a deep exploration of his renowned masterpiece, "Composition with Blue, Yellow, and Red, 1927″. Mondrian initially began his artistic journey by painting landscapes in his homeland of Holland before fully embracing his distinctive style in the 1920s; characterised by white rectangles—two subtly distinct shades of white—bordered by bold black lines and interspersed with smaller rectangles in primary colours: red, yellow, and blue. Throughout the venue, guests will encounter elements inspired by "Composition with Blue, Yellow, and Red, 1927″ including distinctive rows of display shelves, mirror walls and floor-to-ceiling window views along the hotel driveway, providing exclusive opportunities for memorable photographs.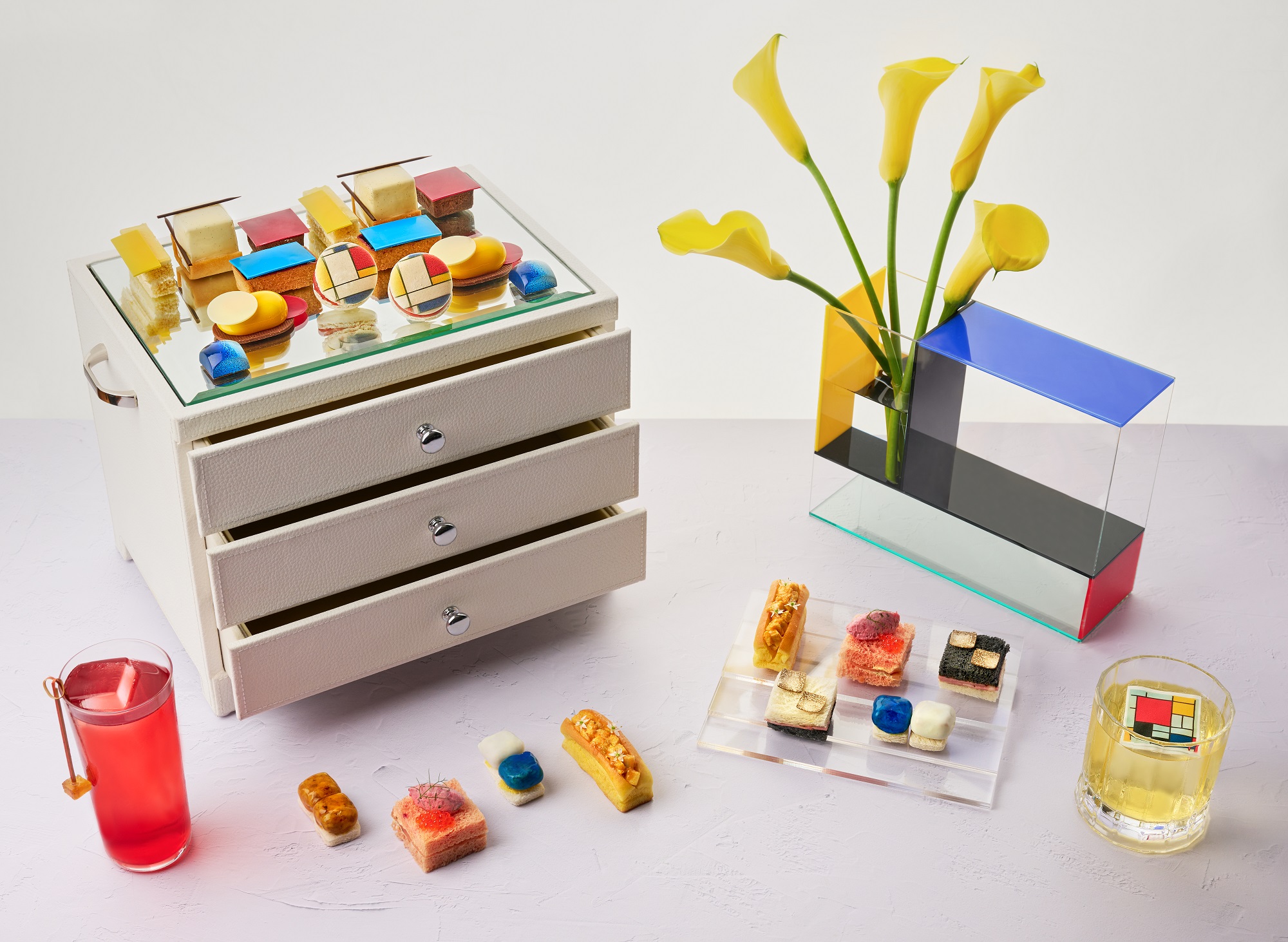 Created by Chef de Cuisine Jacky Lai and Executive Pastry Chef Yong Ming Choong, the menu of artfully designed treats focus on distinctive form and colour.
Begin your high tea with the savoury delights. The Coronation Chicken, perfectly showcases Chef Jacky's rendition of a classic dish in vibrant yellow tone, which is further enhanced with the flavours and natural colouring from mixing curry and mayonnaise. The Smoked Eel is covered with either blue pea, yuzu or milk to create three different colours that perfectly match the colours used in the art works, and flavoured with a house-made teriyaki sauce. Chef Jacky's Mortadella is a sandwich of thick, house-made white toast and charcoal brioche topped with a layer of fresh truffle aioli, paying tribute to Mondrian's distinctive black bold lines. Chef completes his selection of savoury bites with a red square shaped ASC Certified Smoked Trout paired with a cornelle of bright beetroot cream cheese and trout roe.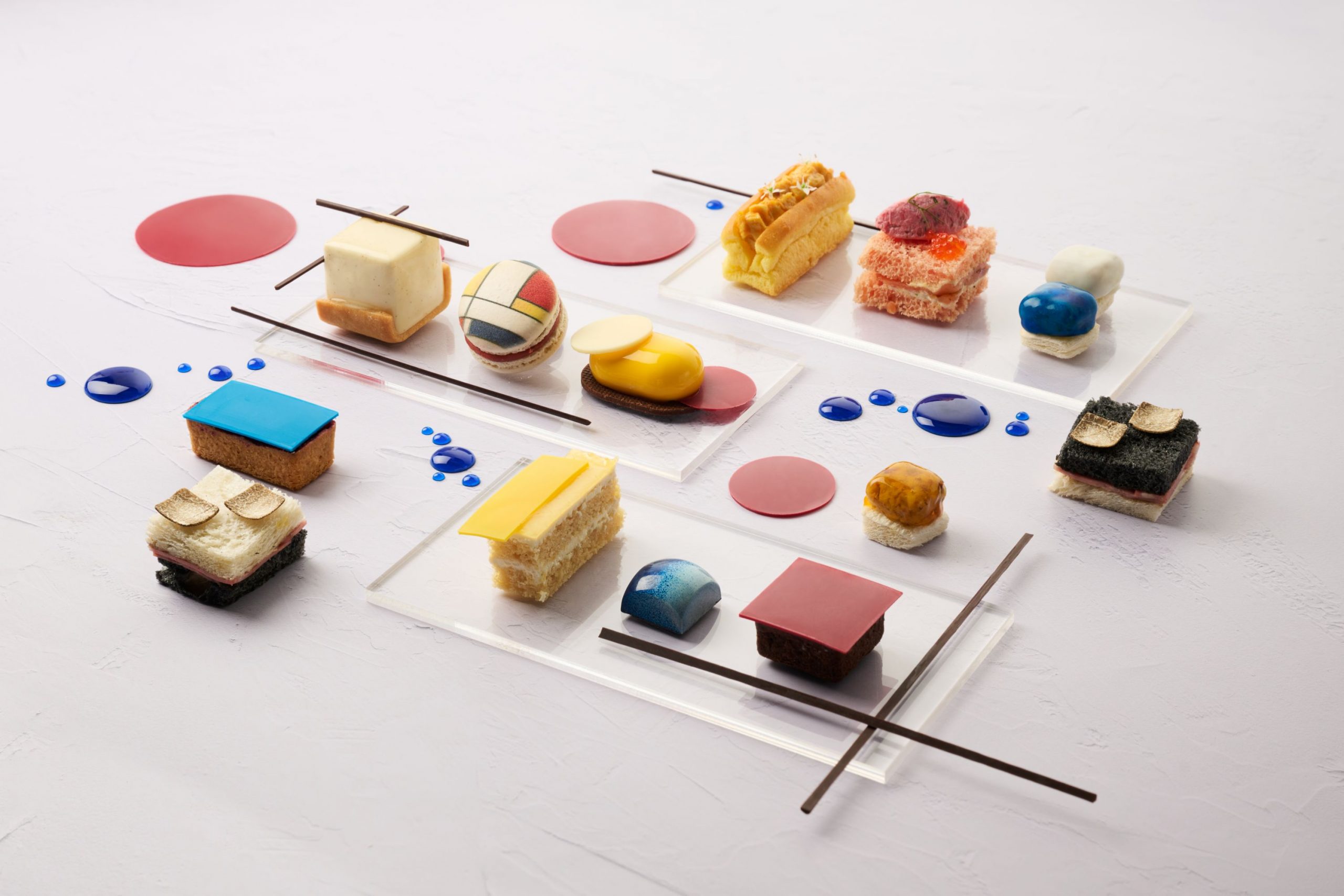 The sweets play artfully with primary colours – yellow, blue, red, and hints of white and black. Chef Ming's selection commences with the Opalys Yuzu Opera, a yuzu-centric reinterpretation of the classic opera cake. This treat boasts layers of almond sponge, soaked in yuzu syrup, and topped with a velvety white chocolate ganache. Next, is the Vanilla Almond dessert with its sable-based foundation. The Cassis Blueberry Tart showcases the primary colour blue, offering a refined, bite-sized serving of blueberry cream nestled within a crispy tart shell. Mondrian's signature is printed on the Strawberry Lemonade Macaron, each bite skillfully balancing the flavours of Japanese strawberries and zesty lemon notes. Meanwhile, the Mango-Passionfruit Cheesecake takes a citrus-forward approach, accentuating the mango and passionfruit flavours.
The Manjari Buckwheat Namelaka is a sable tart featuring a rich 64% chocolate cream infused with candied buckwheat for a delightful crunch and creamy namelaka texture. To finish, a Chocolate Bon Bon with white, blue, and green accents; visually stunning and echoing the unmistakable abstract shapes of squares and rectangles of Piet Mondrian's iconic artworks. In addition, the traditional french pastry, Sea Salt Kouign Amann, will make its debut in this menu alongside ANTI:DOTE's signature Madagascar Vanilla Scones served with Devonshire cream, lemon butter curd and strawberry marmalade.
Guests can enhance their afternoon tea experience with a choice of two cocktails or a mocktail inspired by Mondrian's use of vibrant colours. Crafted by ANTI:DOTE's Head Mixologist Kingston Chin, these beverages capture the essence of pure planes of colours, creating a visual and sensory delight. Each sip makes up a unique sensorial journey through delightful contrasts. Indulge in Blank Space, a perfect pairing with the afternoon tea's sweet selections, featuring Talisker Islay Single Malt Scotch, Gentiane de Lure, Baileys, salted caramel milk, citrus, and spicy bitters. For those seeking a playful blend of savoury and sweet, Harmony combines Don Julio Blanco, Piment d'Espelette, Cherry Berry, lime, and salted sage soda. Meanwhile, the non-alcoholic version, Perfect Balance, offers a harmonious mix of Seedlip Spice and Spiced Agave.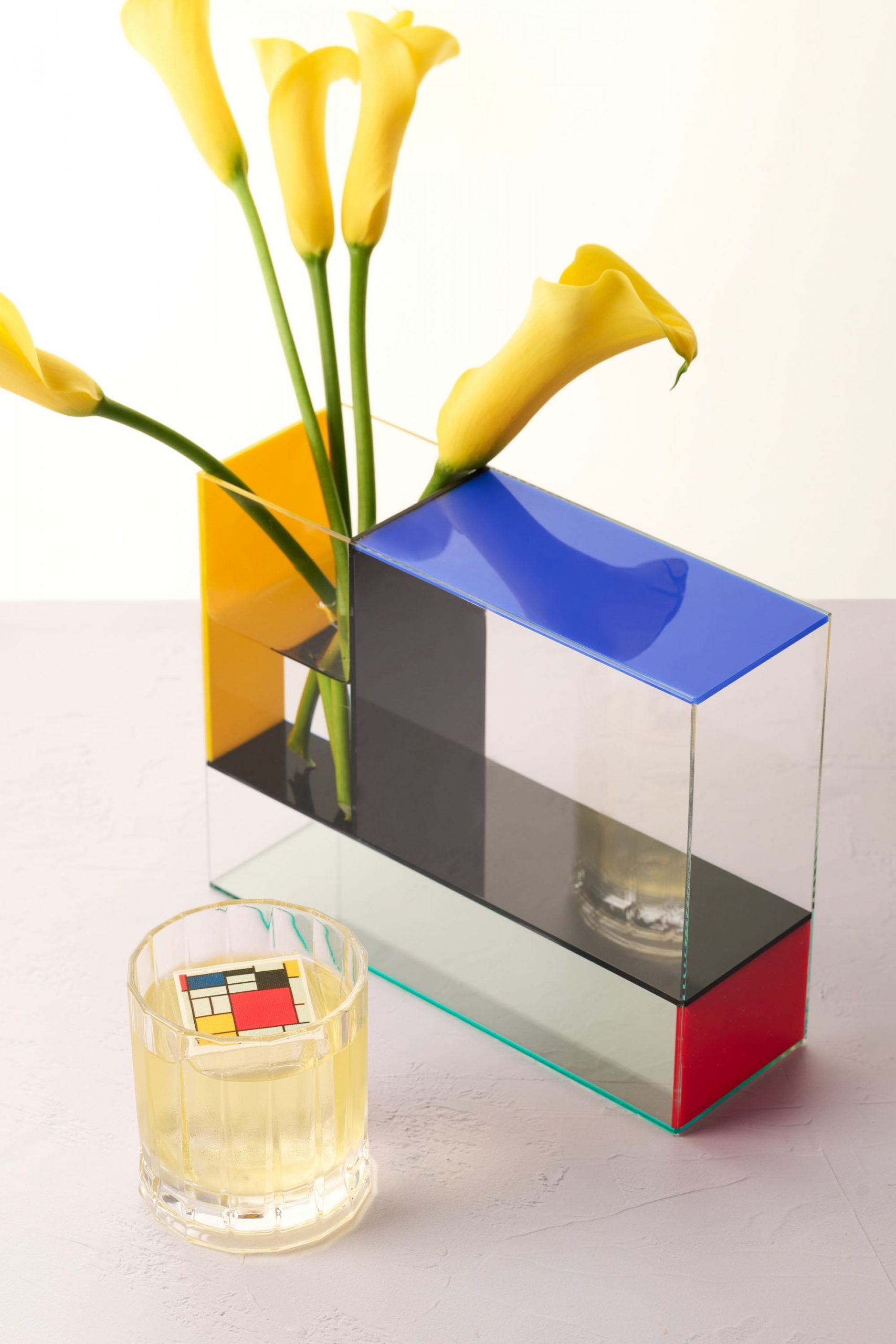 The afternoon tea experience is priced at S$98++ per guest with two afternoon tea cocktails, or S$68++ per guest with a choice of two non-alcoholic beverages. In addition, the reduced children's menu is available at S$34++ per child.
View menu here.
To make a reservation, click here or call +65 6431 6156 or email dining.singapore@fairmont.com
This article is published on 26 October 2023. Images are for illustration purposes only.