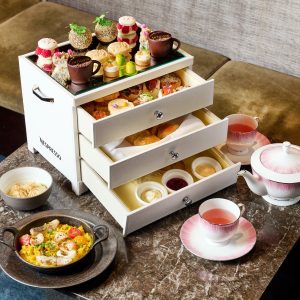 Be a globetrotter as you delight in an afternoon tête-à-tête with decadent savouries and sweets inspired by flavours and ingredients from around the world.
From now to 30 November 2022, let the team at Anti:dote ignite the wanderlust in you with a specially curated 'Around the World' Afternoon Tea. Executive Pastry Chef Yong Ming Choong and Senior Sous Chef Jacky Lai have upped the ante with an exquisite medley of savoury and sweet surprises inspired by flavours from around the globe.
The iconic Chilli Crab is a must-have when in Singapore. At Anti:dote, chefs cook the succulent crab meat in a piquant homemade chilli sauce and later envelope it with a steamed mantou for the perfect finish. Drawing inspiration from a classic Korean dish, meat lovers will enjoy the tender beef short rib patty marinated in bulgogi sauce. The tantalising meat is then placed on an open-top mini bun and garnished with kimchi mayonnaise and leek, packing in a punch of flavours. A culinary mainstay in Japan, miso is added to tuna before being baked and placed atop a homemade tart shell. A delizioso treat inspired by a dish from Italy, the Parmigiana surprises with the decadent mix of eggplant, parmesan cheese, and tomato sauce. Confit de canard from France is a crowd-pleaser featuring duck leg that has been cured for four hours with a myriad of herbs like bay leaf, thyme, and rosemary. After being confited and shredded, the aromatic duck is presented on a crisp baguette toast.
The afternoon tea experience is elevated further with an impressive repertoire of sweets.  Malaysia's Chendol Jelly with Gula Melaka is creatively recreated at Anti:dote. Both pleasing to the eye and palate, it is presented in a chocolate bowl shaped like a coconut shell with beautiful layers of green, white and yellow. Let us take you to dessert heaven and back when you pop the Japanese-inspired golden brown black sesame cream puff with honey glutinous rice cake in your mouth.
The richly aromatic Australian classic Lamington comes in small squares of brown sugar sponge, wrapped in black tea glaze and coconut. Light and fluffy, the Ispahan-flavoured French macaron adds a delightful colour and sweetness to the collection. A must-have dessert in Italy, Anti:dote's rendition of the iconic tiramisu is a great pick-me-up with velvety mascarpone cream and ladyfingers dipped in Nespresso coffee. Bringing forth flavours from the USA, Apple Pie is a delightful treat with an apple confit on a shortbread tart with almond crumble. Chocolate lovers will adore the traditional dessert from Canada. And last but not least, the nutty and buttery Nanaimo Bonbon made with vegan chocolate, rice milk, and coconut is the perfect ending to the afternoon escapade.
All afternoon tea sets come with Anti:dote's signature freshly baked Madagascar Vanilla Scones served with lemon butter curd, strawberry marmalade and Devonshire cream.
The 'Around the World' Afternoon Tea is priced at $58 per person; $70 per person with the choice of one Amuse Bouche; or $75 per person with both Amuse Bouche. Guests can choose between two Amuse Bouche: A personal Paella pan with prawns, calamari, and saffron and the umami-rich Steamed Soup Dumpling with minced pork and shiitake mushroom broth. Two-hour free-flow champagne is available for $75 per person.
The 'Around the World' Afternoon Tea is available daily from 12pm to 2pm and 3pm to 5pm.
View menu here.
For reservations, click here.