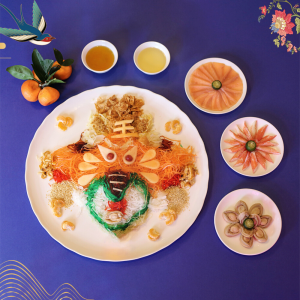 House of WÈI will present specially curated festive set menus starting from the 8-course –Auspicious 如意吉祥 Set Menu ($118 per person; minimum 2 persons), featuring a sumptuous repertoire of dishes to celebrate the auspicious Year of the Tiger.
Begin with a refreshing Longevity Fruit Yu Sheng with 3 Sea Treasures, a healthier rendition of the festive staple that showcases a colourful medley of sweet tropical fruits including one of Chef Mok's favorite ingredients, the young coconut. Shredded into noodle-like strands to signify longevity, the young coconut lends a different texture, aroma and sweetness to the customary Chinese New Year dish that is paired with classic Yu Sheng condiments. Topped with a bounty of three oceanic treasures – Norwegian salmon, snow crab and abalone – and a unique sweet and sour sauce of fruit jams, citrus juices and fragrant shallot oil, the dish is a highlight that is not to be missed.
The hearty and honest House of Wei Prosperity Gold Pot is a time-honoured recipe handed down by Chef Mok's mentors. A reunion of land and sea flavours in a pot, the dish features abalone, prawn, sea cucumber, conpoy, dried oyster and roasted pork that are slowly braised with superior ham stock.
A reinvented homecooked dish enjoyed by Chef Mok, the Braised 6-Head Abalone with Fatt Choy Oyster Roll is a well-loved classic slow-cooked in a flavourful ham stock that is packed with umami flavours from abalone infused with aged soy stock, and other auspicious festive ingredients such as dried oyster and fatt choy deftly wrapped in bean curd skin.
Visit House of WÈI for more information
Order Chinese New Year Takeaway and Hampers from Fairmont at Home today