In partnership with ARTiSTORY and Museum of Fine Arts, Boston, SKAI introduces "Gathering of The Greats, A Wave from The East"; a bespoke high tea experience inspired by the renowned print series "Thirty-six Views of Mount Fuji".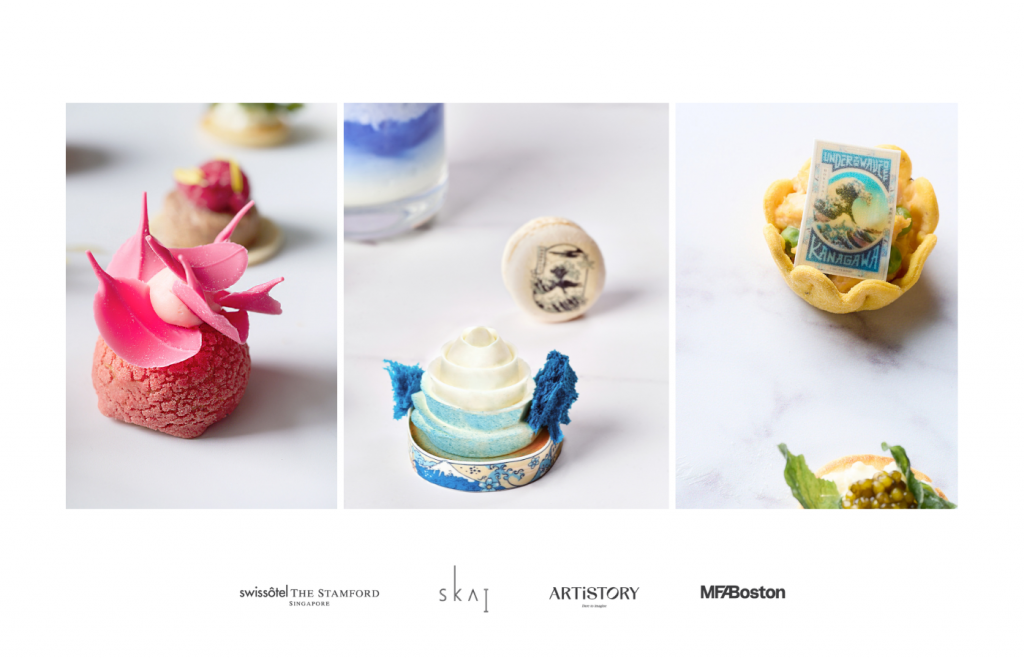 Collaborating with ARTiSTORY and Museum of Fine Arts, Boston, SKAI unveils the second edition of a four-part series of art-inspired afternoon tea experiences. Titled "Gathering of The Greats, A Wave from The East", this creative culinary experience takes guests on a journey through Katsushika Hokusai's iconic woodblock print series, "Thirty-six Views of Mount Fuji".
Available from 2 June to 31 July 2023, this high tea promises an unforgettable experience that combines epicurean delights, art, and SKAI's unparalleled city views. The experience will run daily from 3pm to 5pm at SKAI, located on Level 70 of Swissôtel The Stamford.
William J. Haandrikman, Managing Director at Fairmont Singapore and Swissôtel The Stamford shares "After the resounding success in the first edition of our Season of Impressionists Afternoon Tea series, featuring Van Gogh's Sunflowers at ANTI:DOTE, we are delighted to extend this appreciation for art to present another thoughtfully curated high tea inspired by the works of Katsushika Hokusai. SKAI, with its breathtaking cityscape views and superb culinary craftsmanship with refined Japanese touches, provides the perfect backdrop for this memorable experience in more ways than one. We are confident that it will win the hearts of discerning culinary and art enthusiasts.
"This partnership with SKAI is a testament to the Museum of Fine Arts, Boston's commitment to extending our global brand by sharing our collections in creative and engaging ways. As a museum dedicated to promoting the understanding and appreciation of art and culture, we are excited to offer this innovative and immersive hospitality experience that showcases the beauty of Hokusai's artwork. It will be exciting to see how this event inspires and delights restaurant patrons bringing the power of art into their everyday lives. We look forward to continuing to collaborate with partners around the world with the help of ARTiSTORY." said Debra LaKind, Senior Director, Intellectual Property & Business Development at Museum of Fine Arts, Boston.
Guests planning a trip or heading to Boston, Massachusetts, will be delighted to know that they can further indulge their appreciation of Hokusai's spectacular works at an ongoing exhibition held in the Museum of Fine Arts, titled Hokusai: Inspiration and Influence. This exhibition takes a new approach to this endlessly inventive and versatile Japanese artist, and explores his impact both during his lifetime and beyond. More than 100 woodblock prints, paintings, and illustrated books by Hokusai are on view alongside about 200 works by his teachers, students, rivals, and admirers, creating juxtapositions that demonstrate his influence through time and space. The showcase ends 16 July 2023.
Yizan He, Founder and CEO of ARTiSTORY said, "We are delighted to unveil our latest artistically inspired dining experience in partnership with SKAI and the Museum of Fine Arts, Boston. This high tea will be a feast for the senses with food, drink, and decor that has been carefully crafted to reflect the beauty and elegance of Hokusai's paintings. This collaboration is a testament to the value of cultural and art IP licensing as a means of creating innovative and immersive brand experiences that resonate with audiences around the world."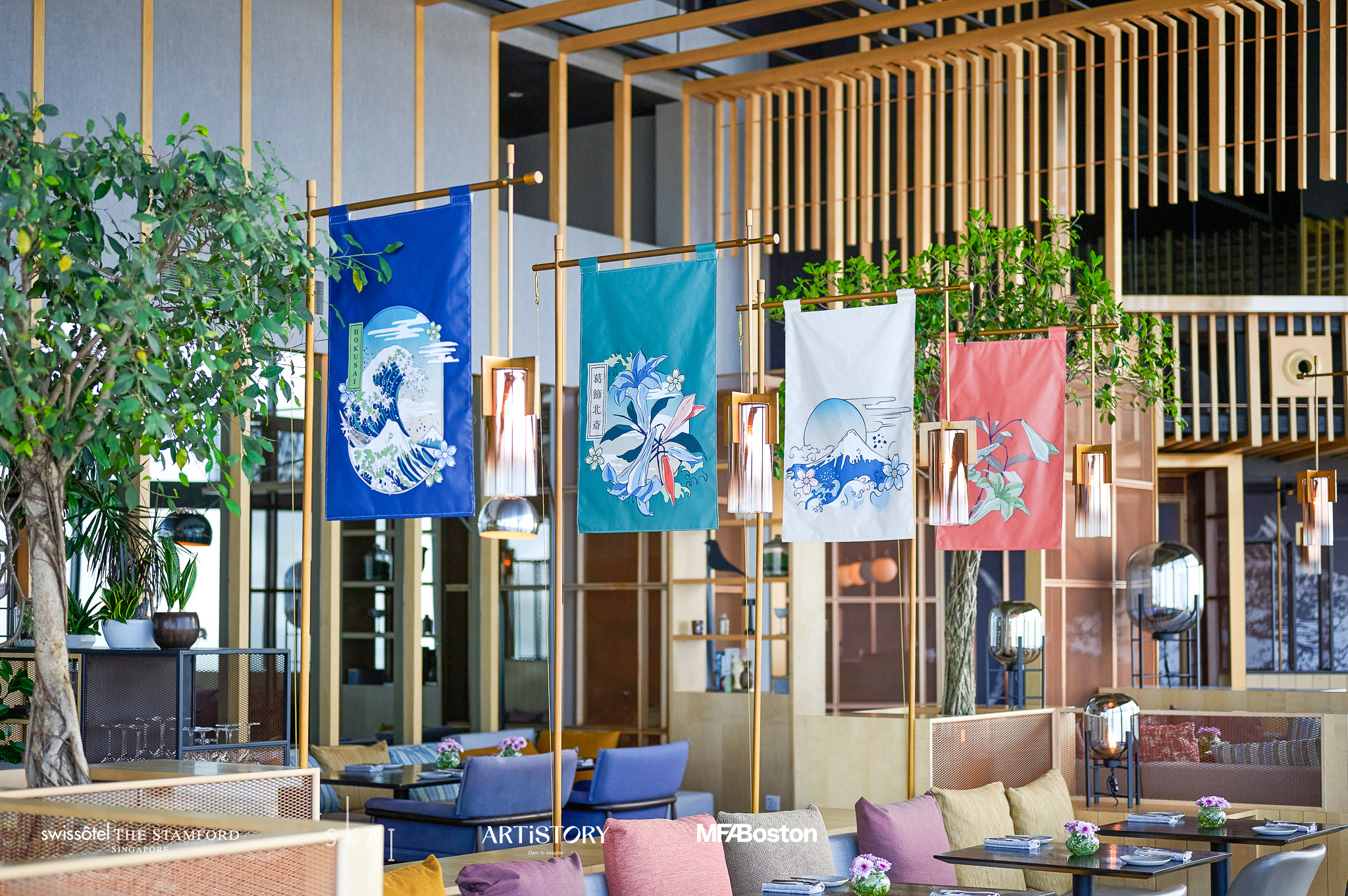 SKAI is set to be transformed into an engaging dining venue with a showcase of Katsushika Hokusai's biography and some of his most celebrated artworks from the "Thirty-six Views of Mount Fuji" series. This will not only provide guests with the chance to appreciate Hokusai's masterpieces, but also learn about the intricate techniques used to create these timeless works of art. In addition, Swissôtel The Stamford's lobby and SKAI's iconic foyer staircase on Level 70 will be adorned to resemble the famous "Under the Wave off Kanagawa," providing unique photo opportunities for guests.
Created by Senior Executive Sous Chef Paul Hallett and Executive Pastry Chef Yong Ming Choong, the menu of expertly designed treats is infused with delicate Japanese accents. Each creation takes inspiration from Hokusai's prints, with key ingredients and flavours enhanced with SKAI's focus on Japanese produce, presentation, and techniques.
The menu features several savoury bites largely inspired by Katsushika Hokusai's floral prints. The visually stunning Duck is presented to look like petals and incorporate flavours of chrysanthemum inspired by Hokusai's "Chrysanthemum and Horsefly". The dish includes a mix of chrysanthemum leaves, raspberry, and an oat cracker. For fans of SKAI's regular high tea menu, Celeriac has been given a creative twist: beetroot shards, whole grain mustard, and sourdough bread are used to evoke semblance to the majestic Mount Fuji in Hokusai's "Rainstorm beneath the Summit". Chef Paul's Salmon, inspired by the "Blackberry Lily", is another highlight. The salmon is garnished with hibiscus cress, granny smith and wasabi, which not only recreates the colours of the print but also adds a bright citrus flavour to the dish. "Peonies and Butterfly" inspires Eel, a tart-based morsel with a delicately piped hummus, a centre of olive oil caviar presented with green peas that are plated to resemble leaves.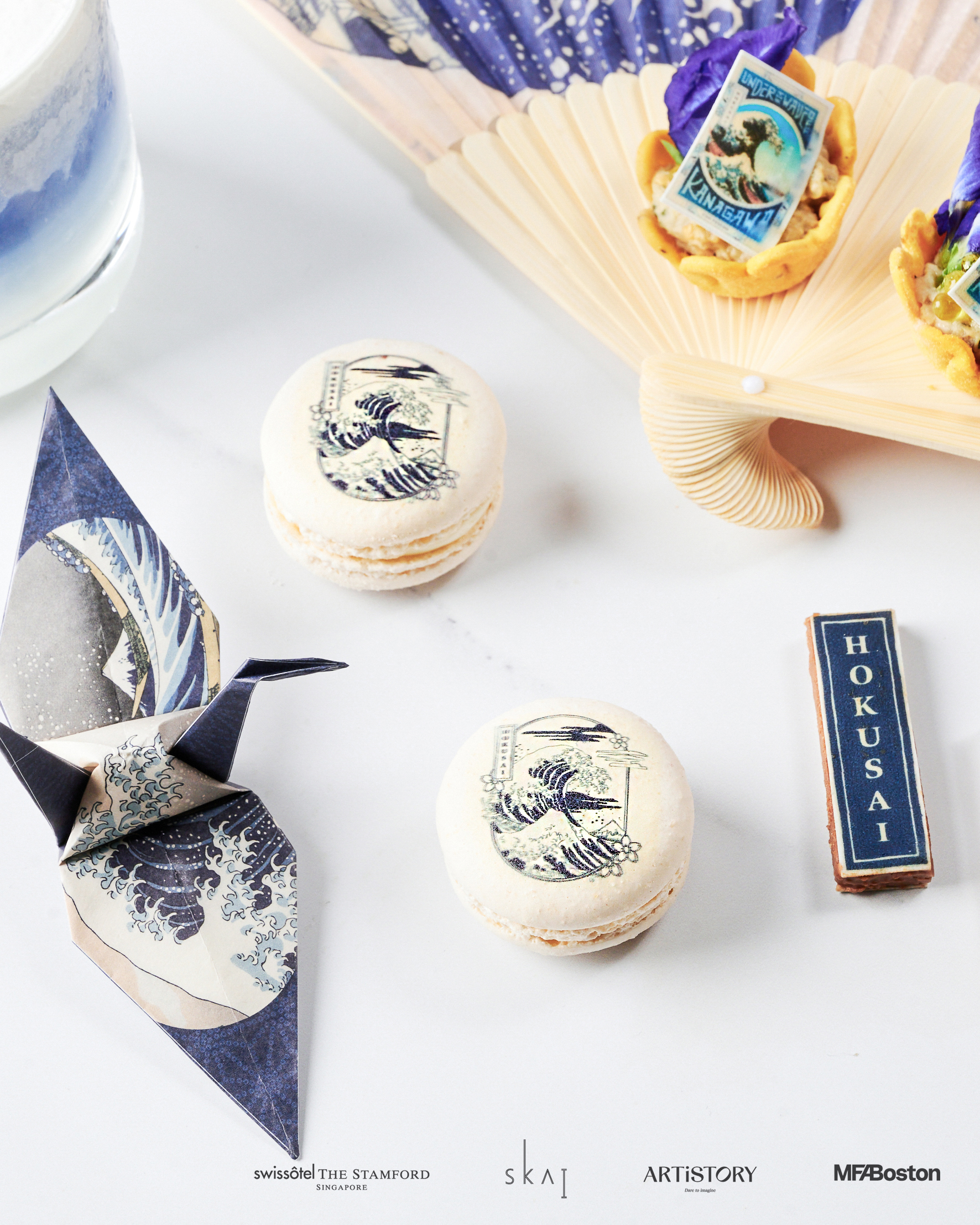 The desserts are exquisite works of art, drawing inspiration from "Umezawa Manor in Sagami Province" from the "Thirty-six Views of Mount Fuji" series. The Chocolate Fuji is a sight to behold, with its ivory white chocolate shell and mango passion coulis centre, crafted to resemble the unmistakable Mount Fuji. The Vanilla Cloud Mousse reminds one of the clouds in the same print, as well as in "Under the Wave off Kanagawa," and is served with a delectable raspberry marmalade. The Sudaichi Macaron beautifully showcases the Japanese citrus fruit Sudachi and a delicate cream cheese represents the birds in "Umezawa Manor in Sagami Province." Chef Ming pays homage to Hokusai's "Chrysanthemum and Horsefly" with three dainty pastries: a Yuzu Crémeux presented as a yuzu tart with a flower sable on top, garnished lightly with sea salt; a Rose Grapefruit, a gorgeous mascarpone-based cream puff designed to look like a chrysanthemum; and a Matcha Sando Sandwich, a decadent cookie sandwich with green tea, lemon, and grapefruit, representing the leaves in the same print.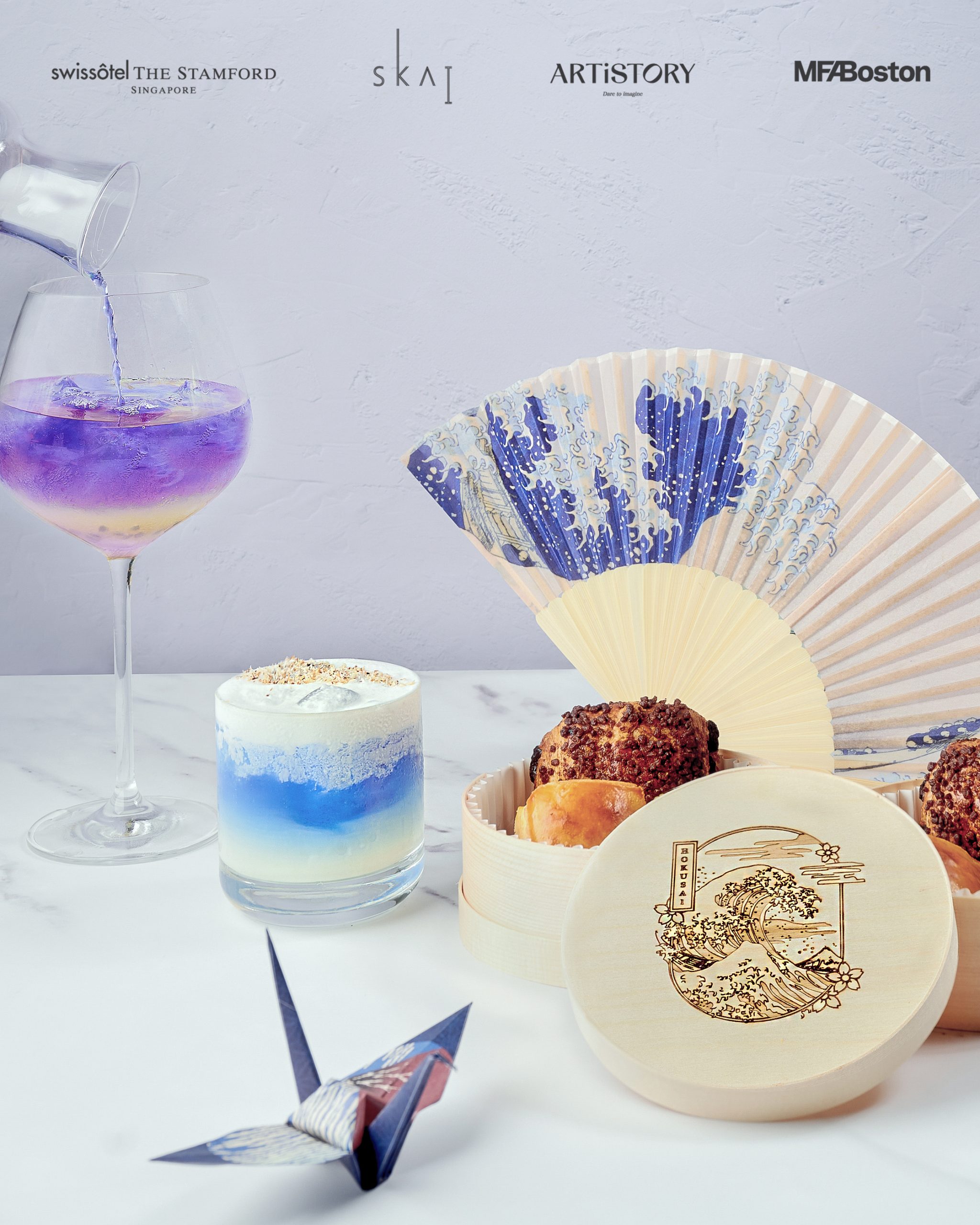 Guests at SKAI can enjoy a choice of two handcrafted drinks inspired by Hokusai's "Under the Wave off Kanagawa" to complement their high tea experience. The first drink, Umi No Kisu Latte ($10++), draws inspiration from the mountain, boats, and waves depicted in the print. The elegant drink has a coconut foam that represents Mount Fuji, ice cubes symbolising boats, and a unique layering technique to mimic waves. The sakura and butterfly pea flower are balanced perfectly with the nuttiness of coconut, and it can be enjoyed either hot or cold. The second drink, Horizon Gaze ($22++ as a cocktail, $15++ as a mocktail), is inspired by the many individuals who have studied Hokusai's print. It features a blend of passion fruit and citrus with blue pea flower, creating a dreamy and mesmerising magenta colour that represents the scene when looking beyond the horizon.
Guests who have placed a reservation for SKAI's "Gathering of The Greats, A Wave From The East" high tea on www.skai.sg will be automatically eligible to participate in an exclusive lucky draw that promises one winner a two-night stay in Swissôtel Nankai Osaka's Swiss Executive Room with buffet breakfast and Table36 club lounge access for two persons. The winner will be announced and contacted via email after the month-long thematic high tea menu concludes.
The high tea experience is priced at $68++ per adult and $34++ per child (6 to 12 years old), with an option to add on free-flow champagne for 1.5 hours from S$75++ per person for Henriot Brut Souverain; or $90++ per guest for Moët & Chandon Rosé Impérial. Click HERE to view the full menu for the "Gathering of The Greats, A Wave From The East" high tea. Reservations can be made at +65 6431 6156, email at skai@swissotel.com or book online at www.skai.sg.