The fully themed café invites Hello Kitty and Little Twin Stars' fans of all ages to a dreamy café experience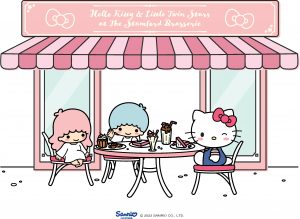 The inimitable Hello Kitty will be gracing our hotel grounds again, this time at The Stamford Brasserie in Swissôtel The Stamford with Little Twin Stars from 22 November 2022 to 29 January 2023; to offer a dreamy café experience that is bound to delight fans of all ages.
Marcus Hanna, Managing Director of Fairmont Singapore and Swissôtel The Stamford says, "Hello Kitty is widely regarded as one of the most popular characters in the world, with many fans in Singapore as we have seen from our Hello Kitty themed staycation and afternoon tea at Anti:dote in Fairmont Singapore earlier this year. In this collaboration with Sanrio for the Hello Kitty and Little Twin Stars café, we hope to give fans another opportunity to celebrate their love for the beloved Sanrio characters. Through an immersive dining experience and the visually irresistible and decadent food at The Stamford Brasserie, we believe we will help create many more delightful moments that bring joy to families and friends."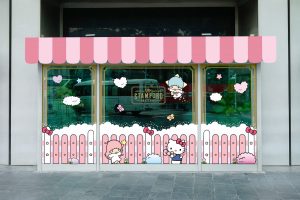 The Hello Kitty and Little Twin Stars Café features a delightful transformation of the French style bistro's interior, with a specially designed themed menu to complete the experience. Walk into the café and be immediately transported into a starry world, filled with cotton candy fields where Hello Kitty and Little Twin Stars not only make an appearance in the dreamy café ambience with pastel motifs across the room, but are also featured in the dishes with adorable accents.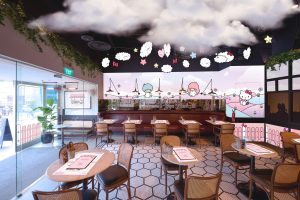 Enjoy dining under the cotton candy pink awnings with your friends, capture photos of yourself amongst the cotton candy fields with Hello Kitty, Kiki and Lala or at the photowall situated just as you enter the café.
Start with a warm and hearty bowl of On Cloud Nine ($16), an aromatic Wild Mushroom Soup topped with a creamy Cappuccino Foam. For a more vibrant starter to bring a burst of colour to the table, opt for the Rainbow Mediterranean Salad ($16) that comes with Japanese Cucumber, Daikon, Beetroot Hummus and Tomato atop a bed of Aquaponics* Salad dressed with a delightful and Pomegranate dressing and finished with Yeast Flakes for a delicate balance to the myriad of flavours.
For a tummy filling main, enjoy Fried Rice Paradise ($22) that features a beautiful and creamy Butterfly Pea Flower Béchamel Sauce served atop fluffy Egg Fried Rice with Vegetables for a dreamy take on a local favourite. The Pasta Adventures ($26) offers a selection of pastas with your choice of sauce between Creamy Corn with Sesame and Edamame or a classic Chicken Bolognese.
Those with a penchant for meat can dig into the Kawaii Pulled Pork Milk Bun ($28) where a combination of Aquaponics* Salad, juicy Pulled Pork, a delightful Pink Garlic Aioli is nestled between two fluffy buns and served alongside a generous helping of Potato & Vegetable Chips. The Burger Buddy ($30) is the perfect choice for a juicy Angus Beef Patty garnished with Lettuce and Pink Garlic Mayonnaise served with Potato & Vegetables Chips. A vegetarian option is also available by swapping out the beef patty with an Impossible™ patty instead.
You will have to leave room for sweets with the wide range of beautiful desserts available! Relish in Star-Cloud Maple Crepes ($18), a heartwarming combination of Muscovado Walnut, Citrus Pear Confit and Vanilla Gelato or Smile and Say Cheesecake! ($18), featuring the café's signature Cheesecake paired with Strawberry Gelato and Parmesan Crumble for a sweet ending to the meal.
Step further into the world of Hello Kitty and Little Twin Stars with the Monaka Wonders ($16), a rich Matcha Gelato served with Azuki Red Bean and Honey Mochi or indulge in a taste of the rainbow with the Sun, Moon and Stars Gelato ($16) that offers a variety of flavours with Madagascar Vanilla, Matcha Tea, Wild Strawberry, Sicilian Pistachio and tangy Alphonso Mango. Complete the meal with the luscious Chocolate Dreams Sable Tart ($16) made with Grand Cru Cocoa Coulis and served alongside Sea Salt Soil and Vanilla Gelato for a balanced finish, or Whimsical Wonderland ($16), a sight to behold with Yoghurt Cone, Blackberries Pea Lychee Popping and Potpourri Juice.
Top off the sumptuous meal with Hello Kitty and Little Twin Stars inspired beverages such as Milky Way Milkshakes ($17), with choice of flavours like Matcha, Strawberry, Chocolate and Vanilla. Other highlights include the delectable mocktails like Rosy Dreams ($18), a beautiful concoction of Pink Flamingo Tea fused with Milk, Strawberry and Rose in Hello Kitty design or Galaxy Adventures ($18), a refreshing drink made of Apple, Butterfly Pea Tea, Cucumber, Coconut, Blue Curacao Cordial and Milk in Little Twin Stars design. Coffee lovers will enjoy a cup of Cappuccino ($6.80) with Little Twin Stars or Hello Kitty design for an additional $1.
Fans who can't get enough of their favourite Sanrio characters or are looking to gift a sweet treat to a loved one can look forward to picking up Sanrio themed goodies at The Stamford Brasserie's Grab and Go section. Perfect for any celebration, the Log Cake (1kg at $160) is a dreamy combination of Confit Raspberry, Raspberry Mousse, Raspberry Chocolate Crunch and Pistachio Genoa Sponge. Have a bite of the Chocolatey Swirl ($14) that is filled with Chocolate Cream; Vanilla Bean and Raspberry flavoured Macarons ($14) or My Favourite Red Cupcake ($14), a Red Velvet surprise that is bound to delight.
To make a reservation, click here.