CLOVE returns with its popular buffet of authentic international flavours! Celebrating some of the best cuisines in the world, experience a tapestry of aromas and flavours weaved together by an offering of native and international delights. Chocolate aficionados will adore the exciting line-up of luscious chocolate dishes, available exclusively for dinner on Fridays; Saturdays and brunch on Sundays.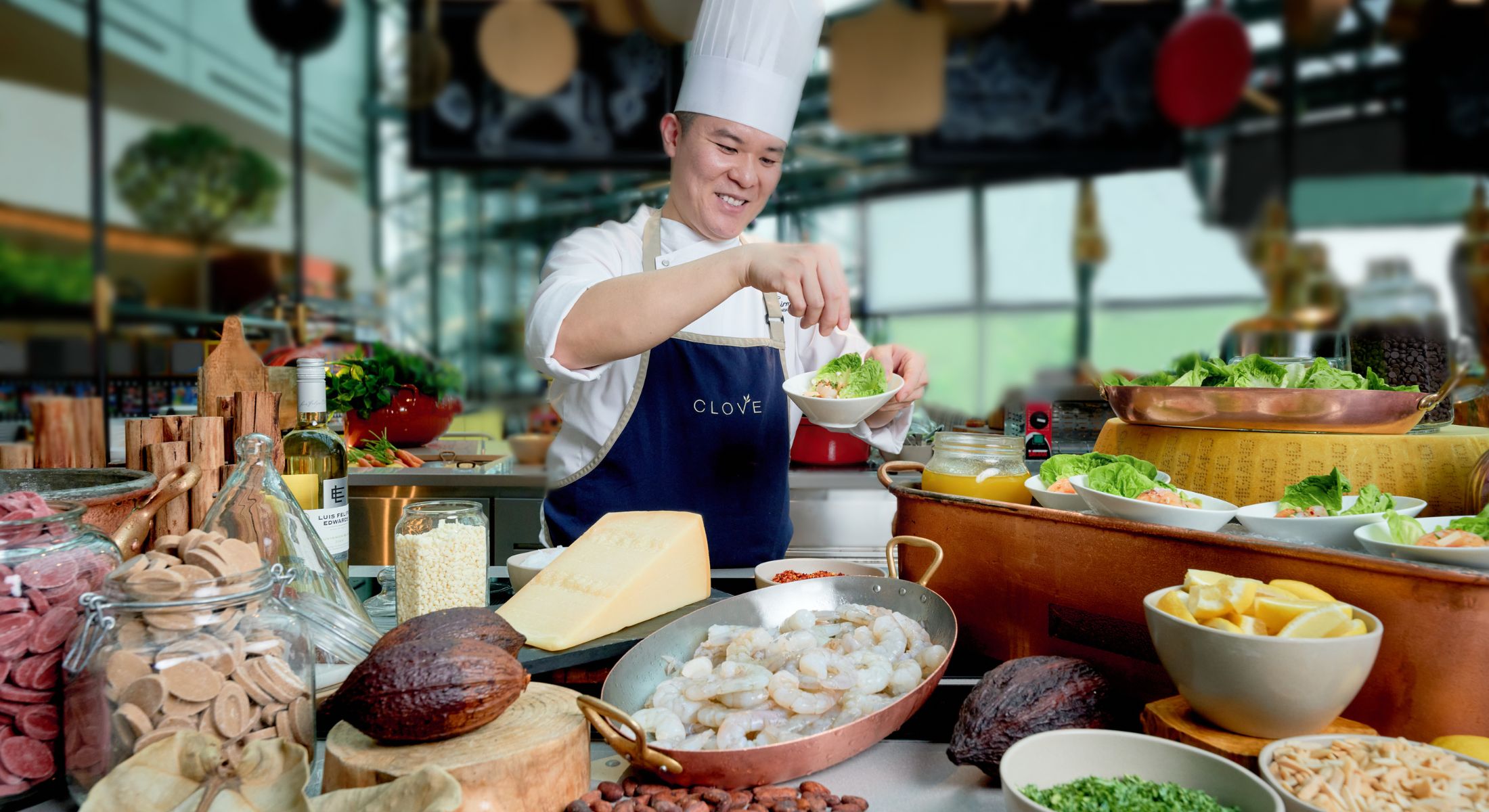 CLOVE'S CHOCOLATE WONDERLAND
Available only for dinner on Fridays, Saturdays and brunch on Sundays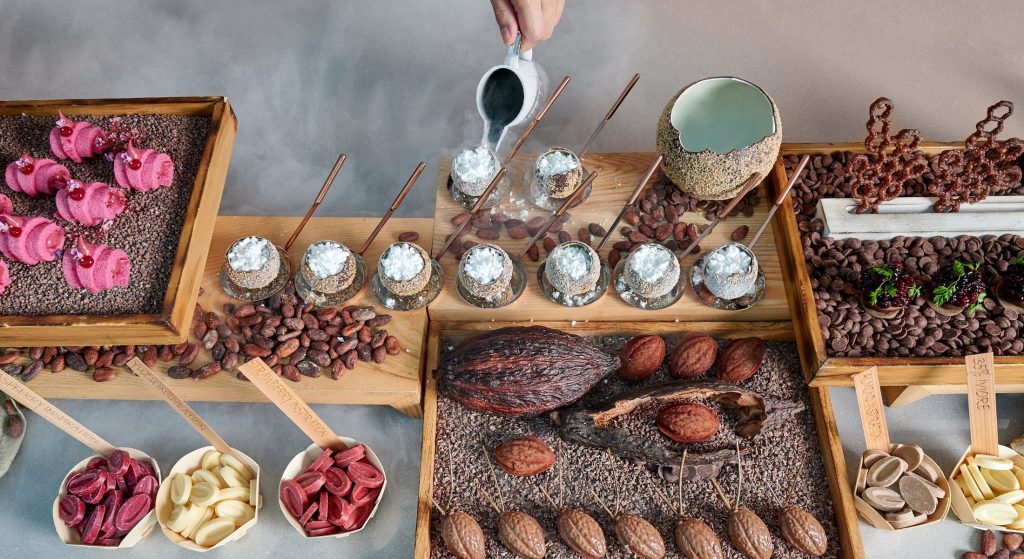 Welcome the weekends with indulgent chocolate feasting as CLOVE transforms into a wondrous chocolate haven with expanded buffet selections of interesting sweet and savoury chocolate creations. Get your golden ticket to have a taste of CLOVE's chocolate splendour which features items made with over 10 types of chocolate from France, Switzerland and Belgium.
Prime your palate with savoury items including Potato Salad with Crispy Bacon in Chocolate; Smoked Duck Salad with Chocolate Shavings; Gratinated Cauliflower with White Chocolate and Hazelnuts. And you'll surely fall in love with CLOVE's Chocolate and Truffle Gateaux; the housemade cheese will bound to delight with its cocoa powder and truffle crust. Taking centerstage is CLOVE's live stations, where chefs whip up crowd pleasers like Ricotta Ravioli with Braised Beef Ragout and Shaved Ruby Chocolate; Sautéed Shrimps with Yuzu Chocolate Vinaigrette and Chilli Almonds and the succulent Roasted Duck with Grand Marnier Chocolate Sauce.
Round up the chocolate feast with novel creations like Nitrogen Cocoa, made with Coco Foam, Kaffir Lime Ice Jelly and Coconut Sorbet in a Dark White Chocolate Shell or the 46% Vegan Dark Chocolate made with oat milk, fresh blackberry and cress from the hotel's on-site Aquaponics farm.
DECADENT DISPLAYS OF THE FINEST INTERNATIONAL DELIGHTS
Have your fill from a colourful display of Vitality salads; cheeses; breads; smoked fish and charcuterie. Indulge in bountiful fresh oceanic harvests of Venus Clams, Scallops, Black Mussels and Prawns.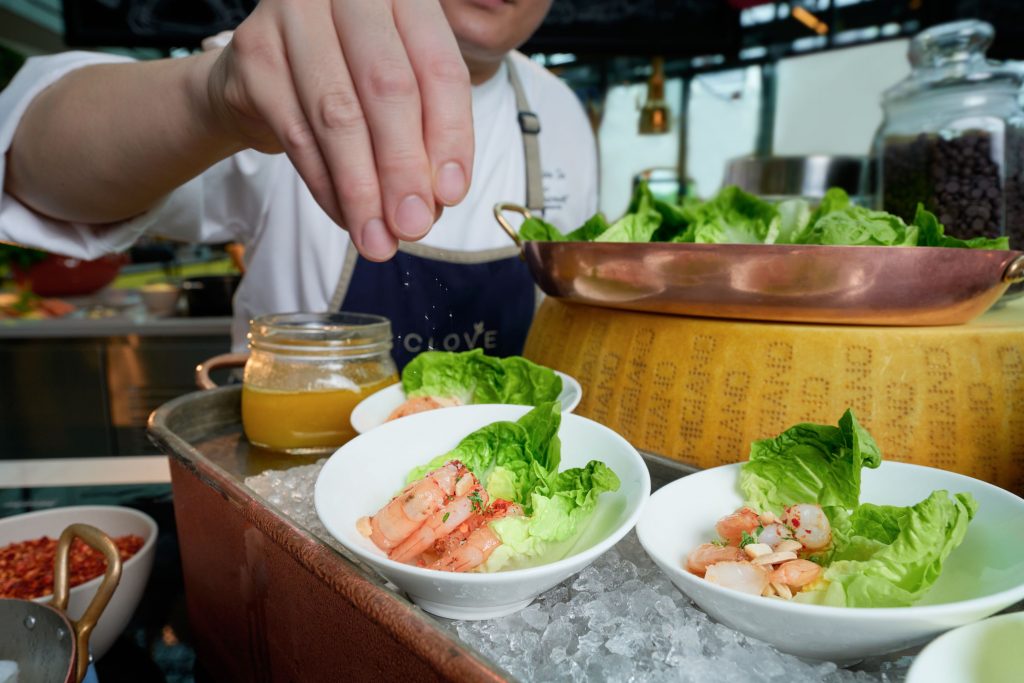 Progress on to delectable hearty mains such as Beef Shank Rendang; Nonya Braised Pork; X.O. Seafood Fried Rice; Lamb Roganjosh. Watch the chefs in action at the live stations, as they cook up a storm with highlights such as CLOVE Style Kong Pao Gnocchi; Seafood Laksa; Truffle Bak Chor Mee; Beef Striploin and Chilli Crayfish. Culminate your culinary journey with delightful desserts featuring Warm Apple Crumble; Black Sesame Genoa and Grand Cru Chocolate Sable amidst other decadent treats.
For more information, email dining.singapore@swissotel.com or call +65 6431 6156