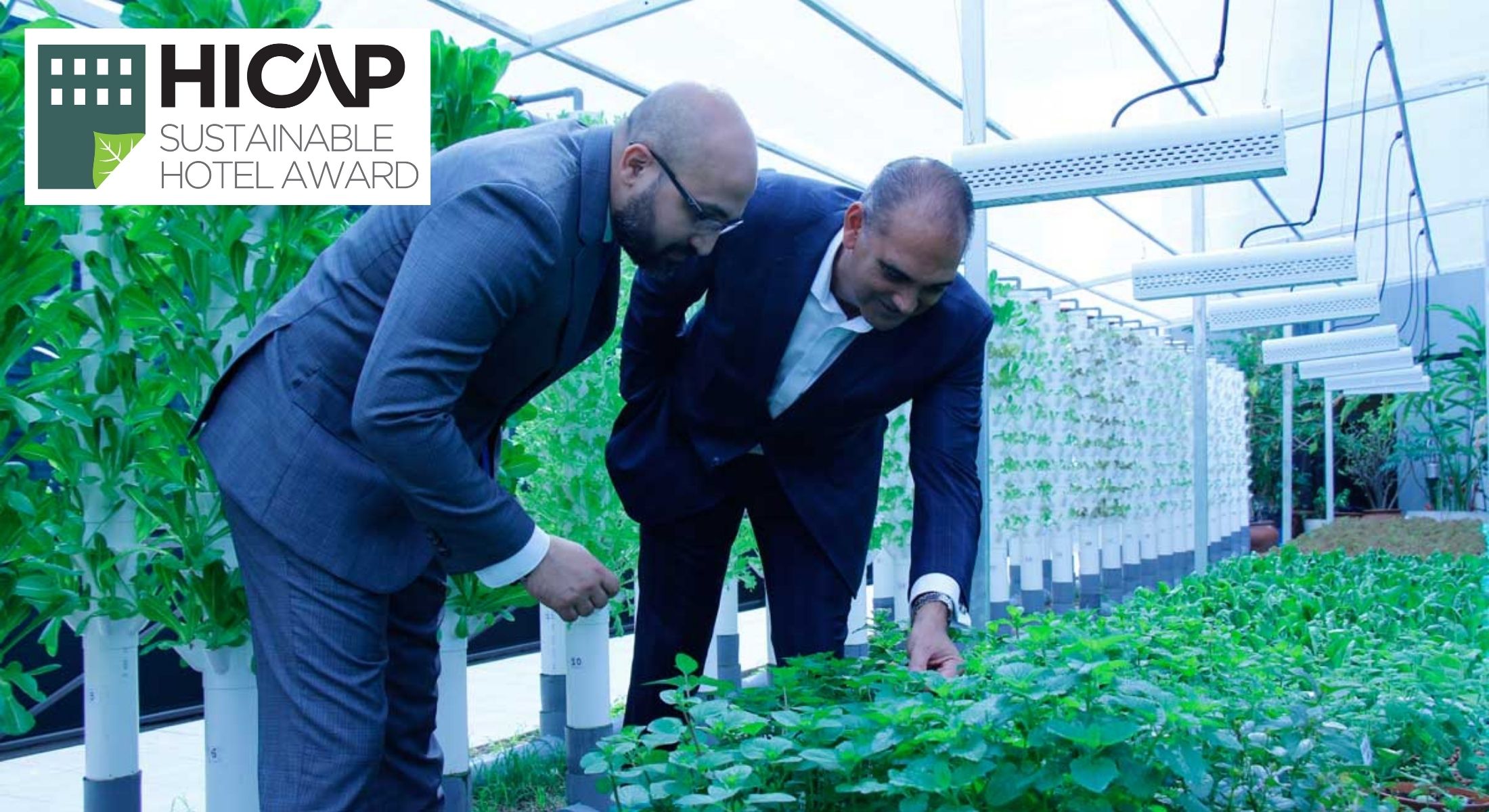 General Manager, Mr Marcus Hanna (right) and Area Director of Information Technology and Business Innovation, Mr Ahmed Disokey (left) at the hotels' on-site Aquaponics farm
Long-standing and strong supporters of sustainability and the environment, our leading innovations and green achievements at Fairmont Singapore and Swissôtel The Stamford were recognised and applauded in the recent announcement of winners for the Hotel Investment Conference Asia Pacific (HICAP) Sustainable Hotel Awards 2020. The hotels beat industry contenders within the Asia Pacific region and emerged winner in the Climate Action category.
Running in its 31st installation, the prestigious annual HICAP Sustainable Hotel Awards are designed to recognise hotels in the Asia Pacific region that are creating innovative new methods, strategies and technologies to face today's sustainable development challenge, while providing tangible examples of sustainable best practices that can be replicated and adapted across the region.
As winner in the category of Climate Action, we were acknowledged for setting a new benchmark and bringing to fruition the world's first urban hotel Aquaponics farm in 2019. This combination of an aquaculture (fish farm) and a hydroponics farm, has since its launch last October, been producing almost all the light greens and leaves needed in our restaurants. It checked all the boxes as an innovative and sustainable concept for an urban hotel as Aquaponic farming consumes 90% less water than traditional farming methods, excludes the use of purchased or manufactured fertilisers (the fish waste is converted to nitrates which becomes fertiliser), and reduces the supply chain's carbon footprint by eliminating transportation, farm equipment, fuel, water usage, plastic and waste. The Hotels' production self-sufficiency currently stands at: 100% for micro-greens, nasturtium, and tilapia, 84% for mixed salad leaves, almost 70% for Pak Choi and Nai Bai, 52% for basil, 35% for water spinach, and 10% of their fish needs.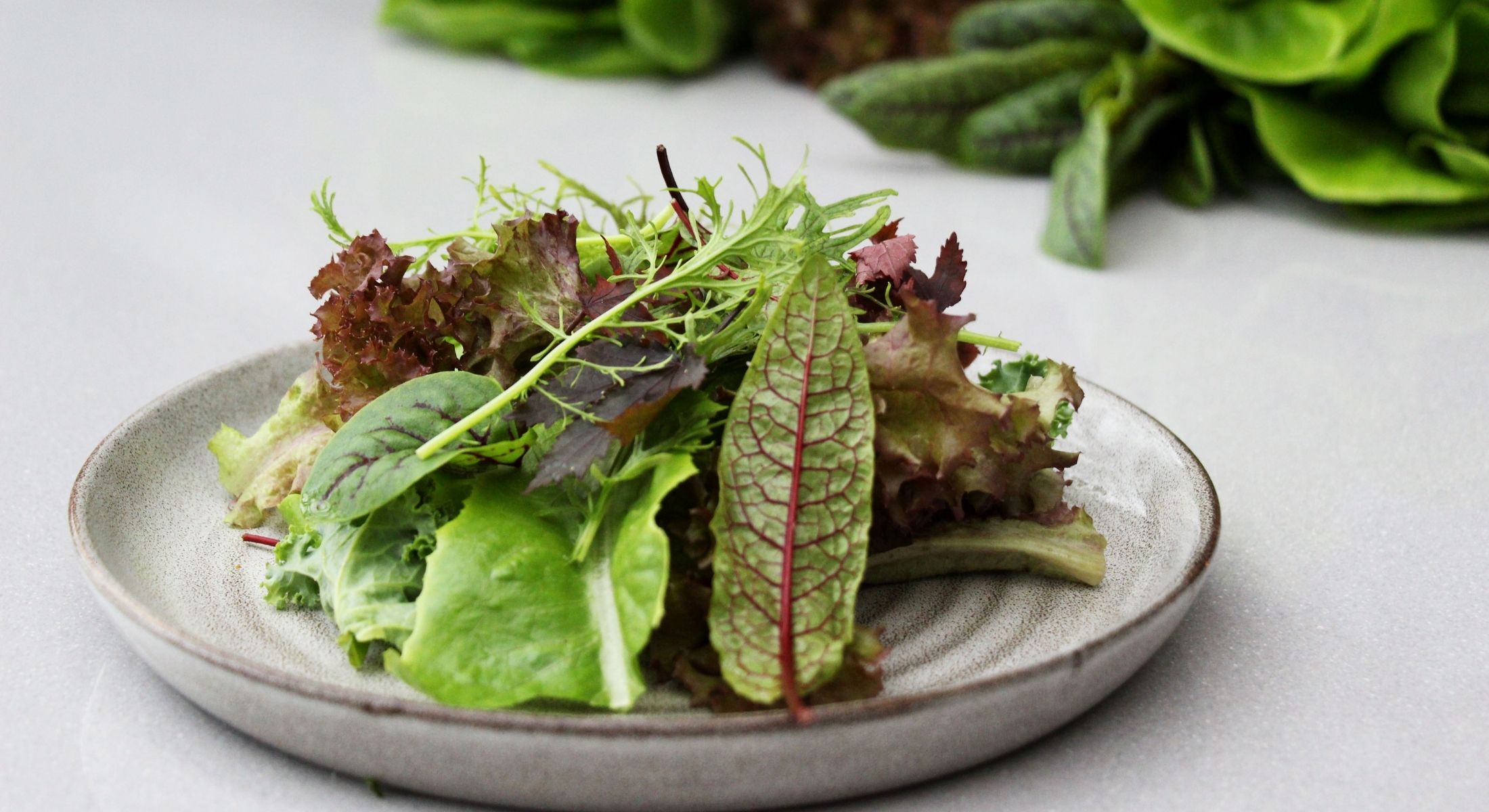 Produce from the Aquaponics farm are used across the hotels' 13 restaurants & bars
Our General Manager, Mr Marcus Hanna shares, "It is an absolute honour to receive this recognition and accolade that not only affirms our commitment towards the larger environment in which we operate, but also celebrates the milestones achieved that have positively impacted business operations; as well as the new benchmarks we have set for the industry as a whole. What we are growing in the Aquaponics farm in fact better, safer and healthier than organic. Guests can be assured of 100% fresh and pure produce that is pesticides-free, and with a constantly growing consumer discernment and focus produce origin and quality; it's amazing that we're able to serve our guests the freshest produce available, literally from farm to table in just 20 minutes. We sincerely hope this will inspire and encourage more hotels and people in the community to continue innovating and play an active part in protecting the environment we live and work in."
"Our hotels have always embraced a keen spirit towards innovation", added Mr Ahmed Disokey, our Area Director of Information Technology and Business Innovation. Our unprecedented Aquaponics farm within an urban hotel has been a key game changer and we are progressively on the lookout for new technologies that can improve or redefine business operations. These include a recent suite of contactless innovations that we have introduced for pre-arrival guest registration, in-room guest services as well as digital ordering and payment in our restaurants. In the new normal, it is even more imperative to do so to stay relevant to our customers' priorities and needs. With a significant shift in reliance away from printed information, this is a big and positive contribution towards sustainability as well."
The 31st annual HICAP will be held virtually between 21-23 October 2020 in Hong Kong.
Read more about our sustainability efforts at Fairmont Singapore & Swissôtel The Stamford.
First posted on 17 September 2020