Enjoy a magical Mid-Autumn with a refreshingly indulgent mooncakes selection to tempt your taste buds!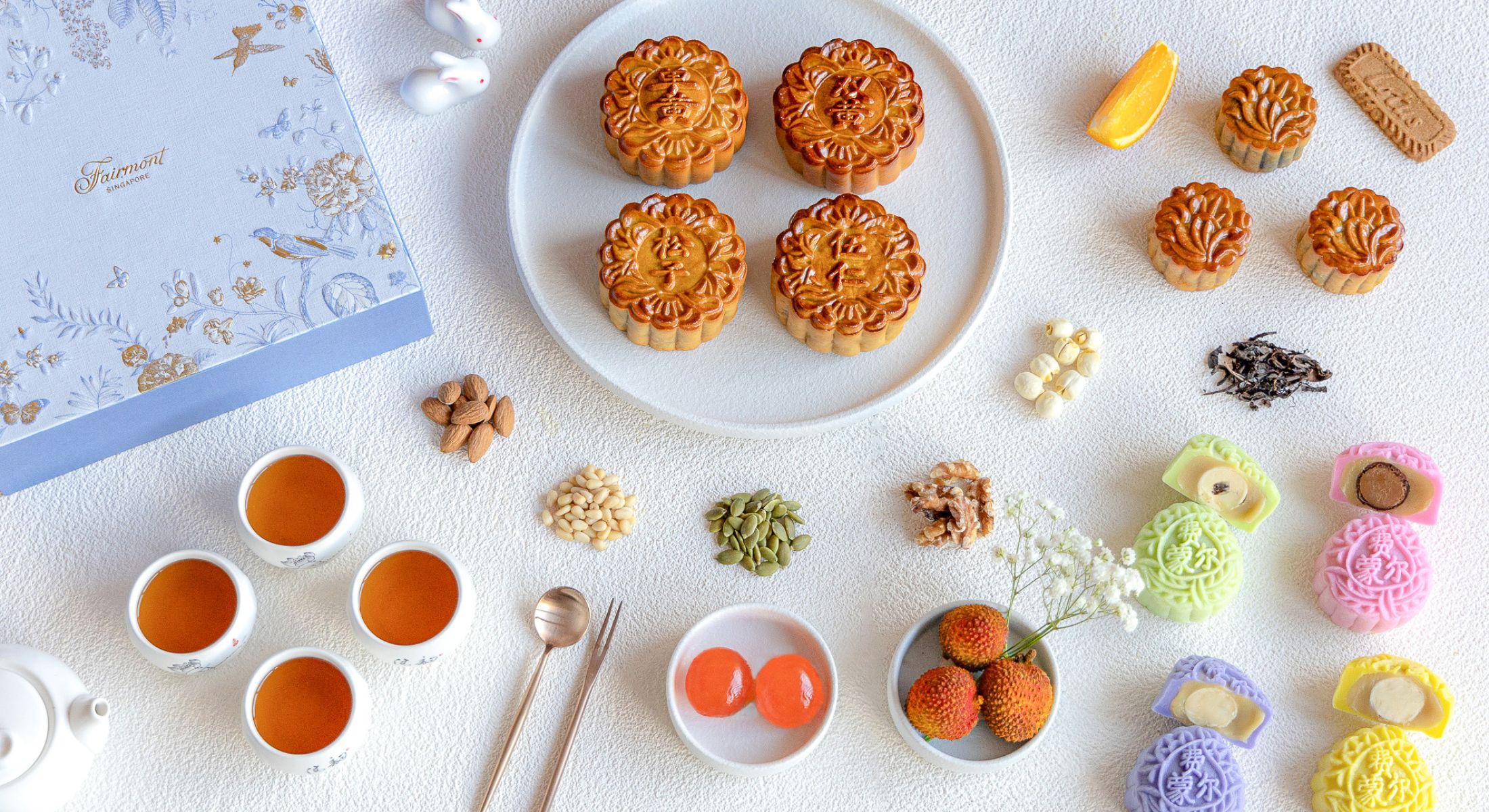 This Mid-Autumn, Fairmont Singapore presents yet another highly anticipated ensemble of popular festive culinary treasures that marry refined craftsmanship with exquisite taste. Prepared by an award-winning culinary team, be captivated by a selection of baked and snowskin gems encased in a delicate box with pastel blue hues, swallows and blossom flowers accents. Find the perfect pick for self-indulgence or festive gifting from the impeccable range of well-loved classics and refreshingly creative flavours.
New Flavours for 2022:
Indulge in our new snowskin favourites or a trusted selection of traditional baked classics.
Baked Mooncakes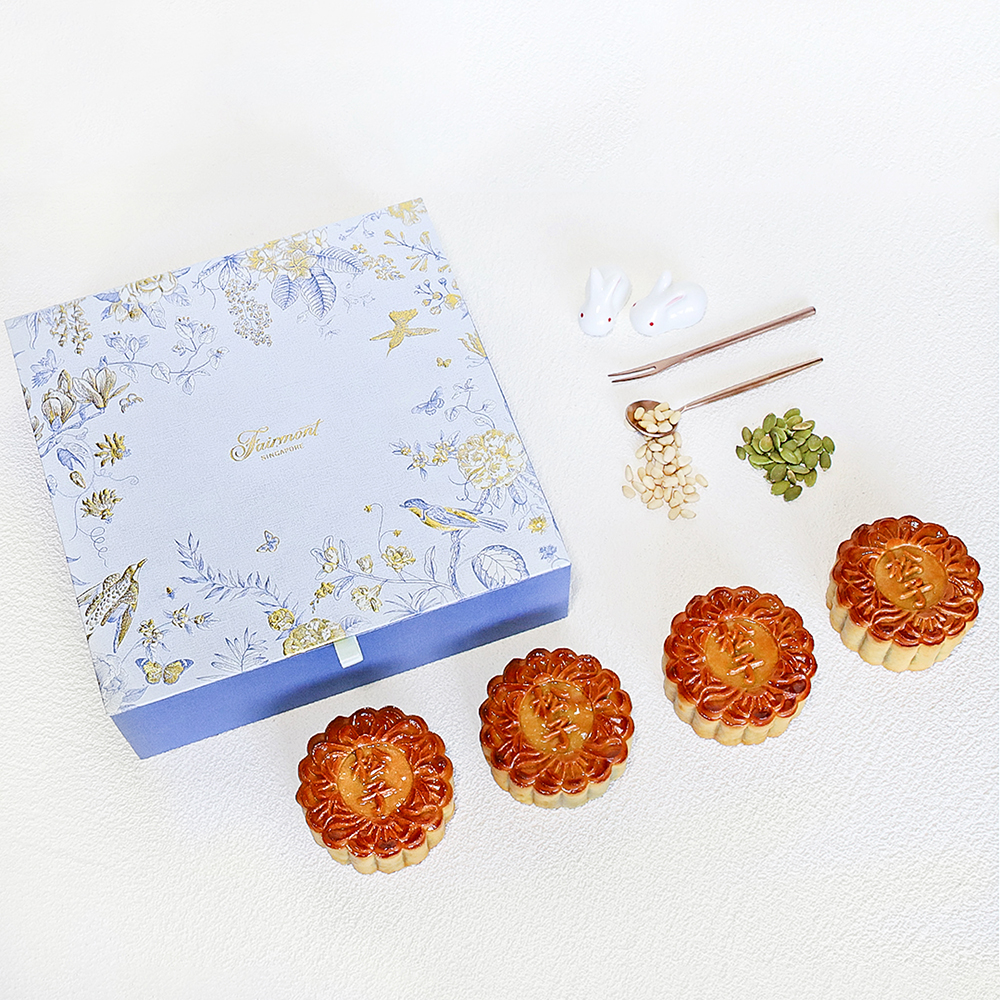 Melon Paste with Mixed Nuts and Pumpkin Seeds 冬蓉馅伍仁南瓜子
A Mid-Autumn celebration is not complete without the well-loved traditional baked mooncakes. Enjoy this enhanced version with a textural mix of melon seeds, white sesame, almonds, walnuts and pumpkin seeds enveloped in smooth lotus paste, when you purchase a box of Assorted Baked Mooncakes.
Mini Baked Mooncakes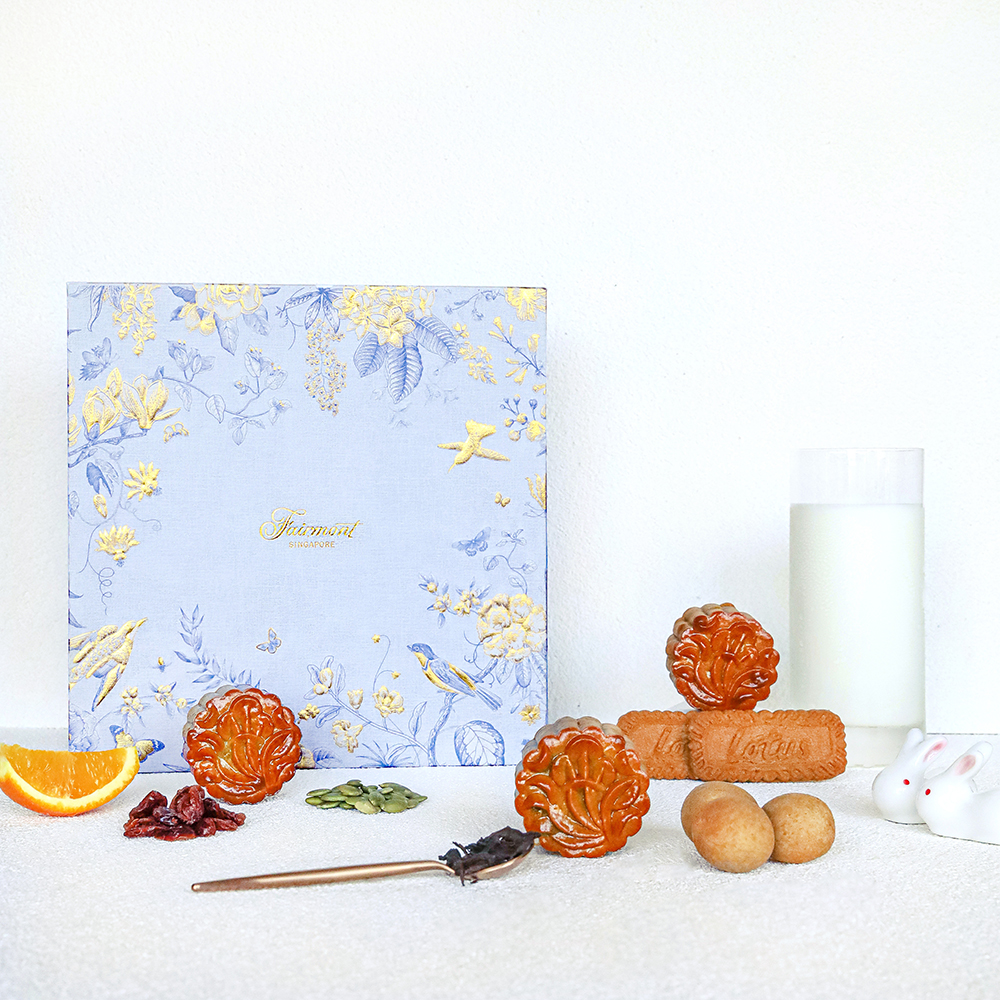 Mini Lotus Biscoff with Hokkaido Milk 迷你北海道牛奶与焦糖饼干 | Mini Assam Tea With Longan 迷你阿萨姆红茶与龙眼 | Mini Orange Lotus with Cranberries & Pumpkin Seeds 迷你香橙蔓越莓与南瓜子
Satisfy your sweet tooth with our mini baked mooncakes that are a surprising assortment of creative flavours and deliver impressively on taste. Try the nutty Lotus Biscoff with Hokkaido Milk; or opt for a more fruity variety with our reinvented Assam Tea with Longan and the sweet and tarty Orange Lotus with Cranberries & Pumpkin Seeds mooncake that are sure to remind you of spring!
Snowskin Mooncakes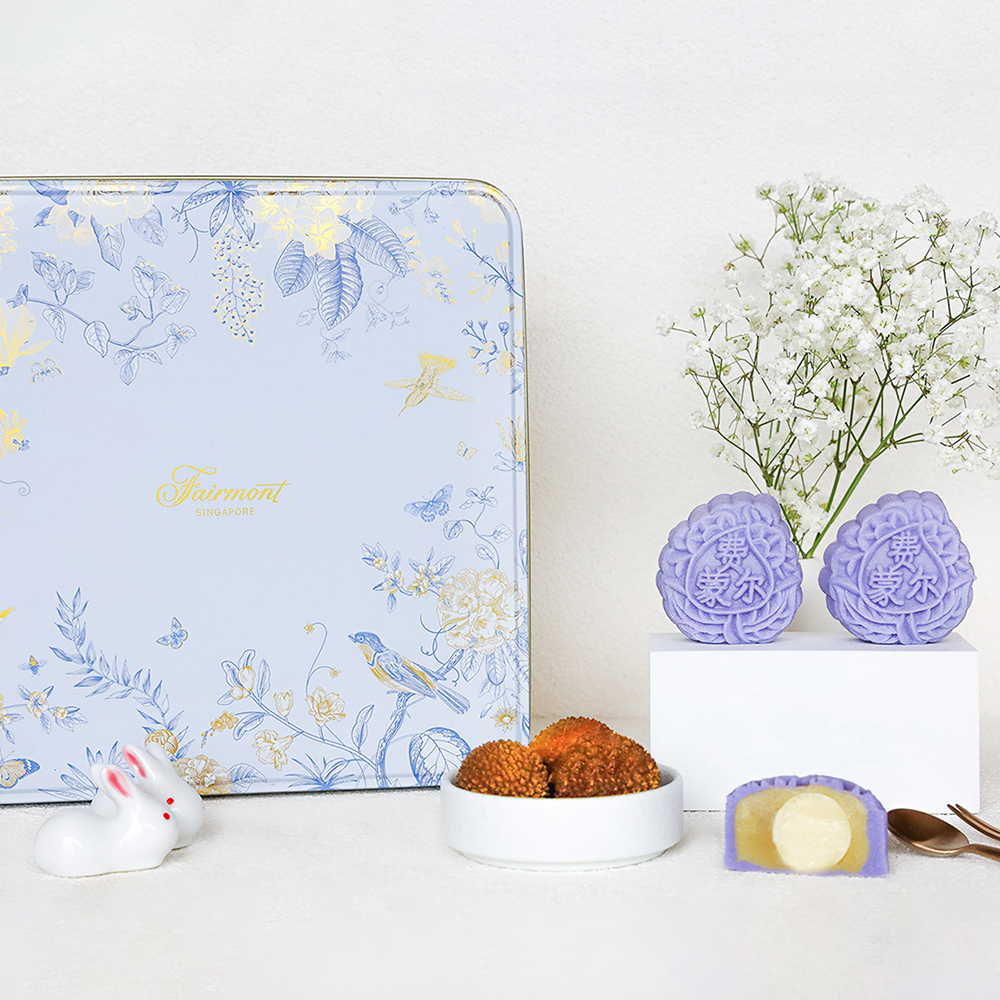 Elderflower Lychee 接骨木花荔枝
The crowd favourite snowskin mooncakes have a new and beautiful addition to its family this year with the introduction of the Elderflower Lychee mooncake. Relish this unique and refreshing offering encapsulating subtle floral and fruity lychee notes.
A Timeless Gift From The Heart
Win hearts during this season of gifting with the Premium Box 4-Piece Assorted Mooncakes. Beautifully accented with blossoms, the mooncake boxes exude evergreen grace and style. It comes with an opulent chinese tea set and four assorted baked mooncakes, perfect for gatherings and feasting this Mid-Autumn.
Offers and deals*:

* Terms and conditions apply:
– Discount is available from now to 9 September 2022 with a minimum purchase of 2 boxes (either 4 piece baked, 9 piece mini baked or 8 piece snowskin mooncakes)
– Discount is not applicable on 2-piece mooncakes
– Full payment is required to enjoy the discount
– Pre-order and self-collection at Fairmont Lobby Booth or Level 2, before 9 September 2022
– No minimum order required for "Pay and Carry" at Fairmont Singapore, Level 2, Mooncake Booth
One-stop Online Ordering System
Enjoy seamless, hassle-free one-stop service with our online ordering system here.
Pre-Order and Self Collection at Fairmont Singapore
Head down to our pop-up booth at Level 2 of Fairmont Singapore from 6 August to 10 September 2022, 10am to 9pm.
For Further Enquiries
Please call our Mooncake Hotline at +65 6338 8785 or email: fairmontsingapore.mooncakes@fairmont.com.