The Swiss National Day  is celebrated every year on 1st August with great enthusiasm and joy. To mark this special day, our award-winning culinary team has developed special recipe kits which includes  Crispy Pork Knuckle and Garlic & Basil Marinated Tilapia for you to enjoy. #FairmontAndSwissotelFoodAtHome
With our easy-to-follow recipe, quality ingredients and an Aquaponics side salad fresh from our farm to your home, each recipe kit has everything you need to conveniently prepare a meal in the comfort of home.
CRISPY PORK KNUCKLE
Potato Salad with Mustard Seeds Aquaponics Kale, Red Onion Sauce (Serves 2)
Level: Moderate ** | Estimated Time: 60 minutes  | Download Recipe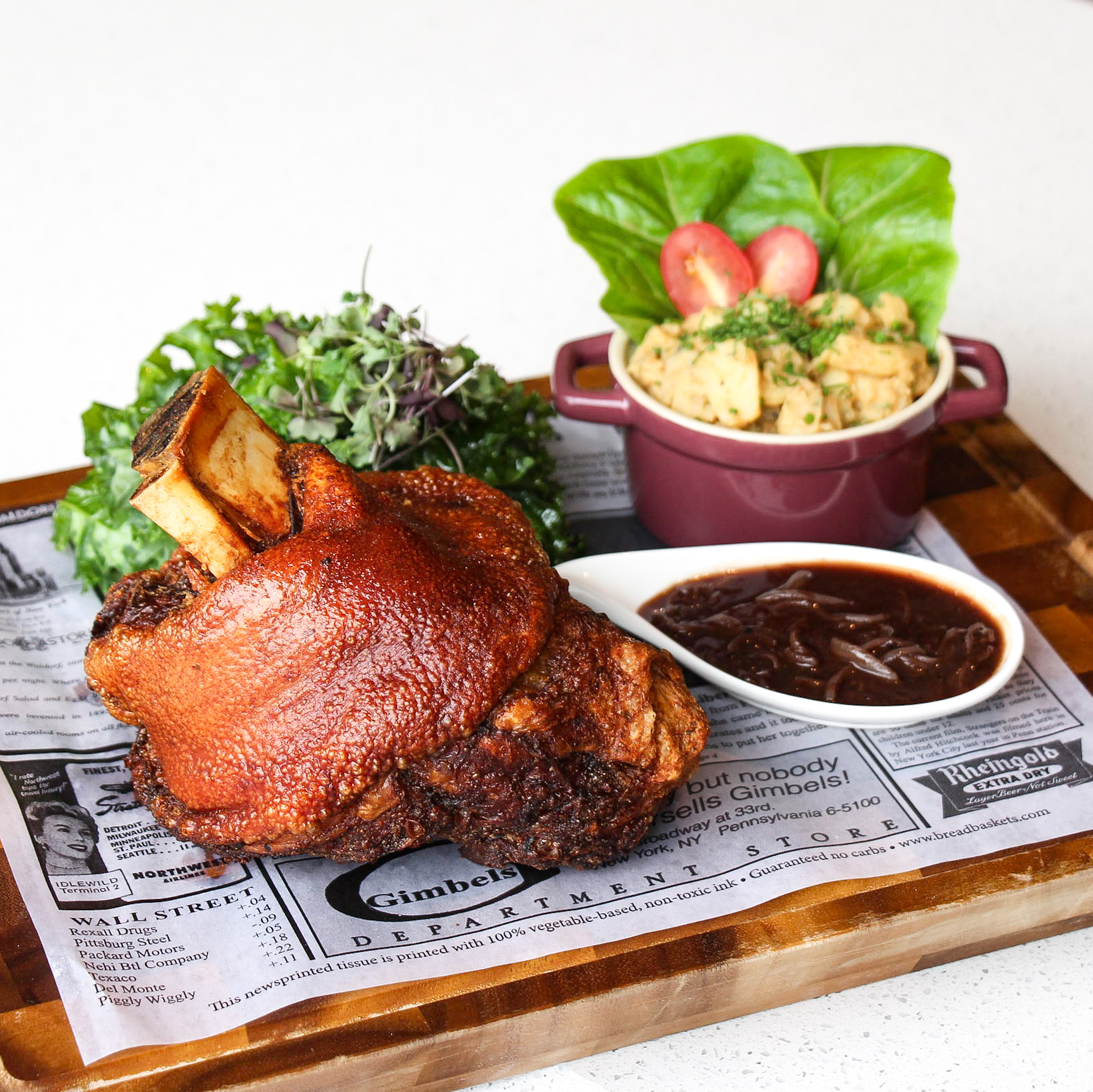 Ingredients: 1 pc Pork Knuckle (precooked), 300gm Ratte Potato (precooked), 50gm Mustard Dressing Premix, 1 bag Aquaponics Kale, 30ml Lemon Dressing, 150gm Red Onion Sauce, 2 sprigs Flat Parsley (chopped), 10 sprigs Spring Onion (chopped), 5gm Mixed Cress
Method:
1. Place pork knuckle at room temperature for 30 minutes before roasting.
2. Preheat oven to 220˚C.
3. Roast pork knuckle for approximately 25-35 minutes.
4. Warm the mustard premix in a pan, add ratte potato. Finish by mixing chopped spring onion and parsley into the salad and adjust seasoning to your desire. Transfer to serving ware. Garnish with chopped spring onion, parsley and cress.
5. Warm red onion sauce in a saucepan and set aside warm.
6. In a mixing bowl, dress kale and greens with lemon dressing and serve together with pork knuckle and condiments.
S$42
Get Recipe Kit
GARLIC & BASIL MARINATED TILAPIA
Asparagus, Saffron Risotto (Serves 2)
Level: Easy * | Estimated Time: 40 minutes  | Download Recipe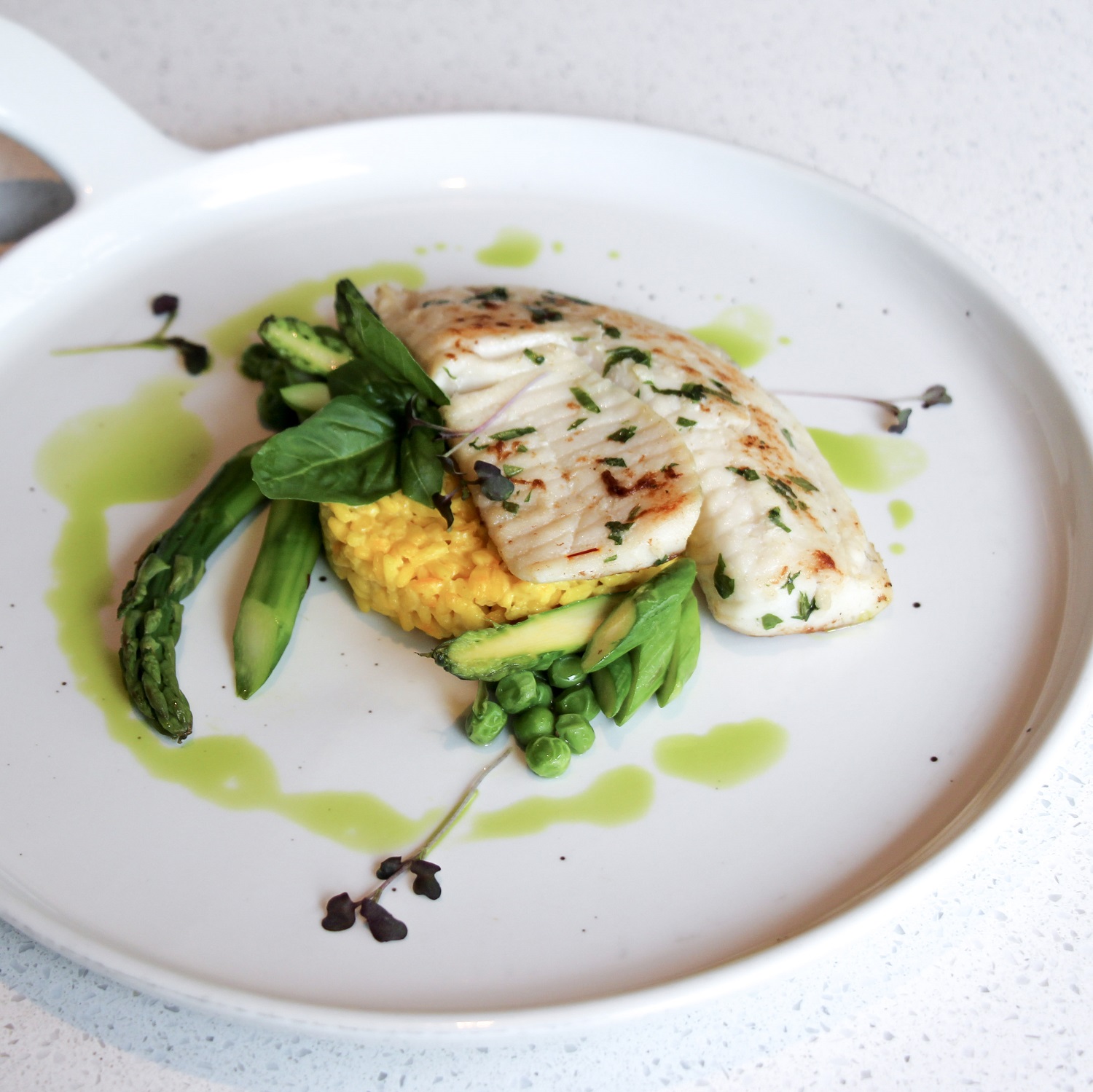 Ingredients: 2 pcs Tilapia Fillets, 200gm Garlic & Basil Marinade Premix, 1 sprig Aquaponics Basil (chopped), 2 pcs Asparagus (trimmed & sliced), 100gm Green Peas, 50gm Butter (unsalted), 350gm Saffron Risotto (precooked) 30gm Parmesan Cheese (grated), 1 pc Fresh Lemon, 1 litre Water
Method:
1. Marinate tilapia fillets with garlic & basil premix for 15 minutes.
2. Place fillets on a kitchen paper towel. Remove excess marinade and season with salt & pepper.
3. Warm up risotto in a sauté pot with 100ml of boiling water. Once risotto starts to soak up the water, add another ladle till your desired texture. Keep risotto in the pot, covered.
4. Preheat frying pan on medium heat. Sear tilapia on the skin side first for 2 mins then sear other side for 1 min, transfer to a baking tray
5. Preheat oven to 160˚C. Roast fillets for 4 minutes.
6. Preheat frying pan on medium heat. Sauté green peas and asparagus in butter and season with salt and pepper to your liking.
7. Transfer risotto to a plate with tilapia fillets on top. Sprinkle green peas, asparagus, lemon zest and fresh basil. Ready to serve.
S$36
Get Recipe Kit