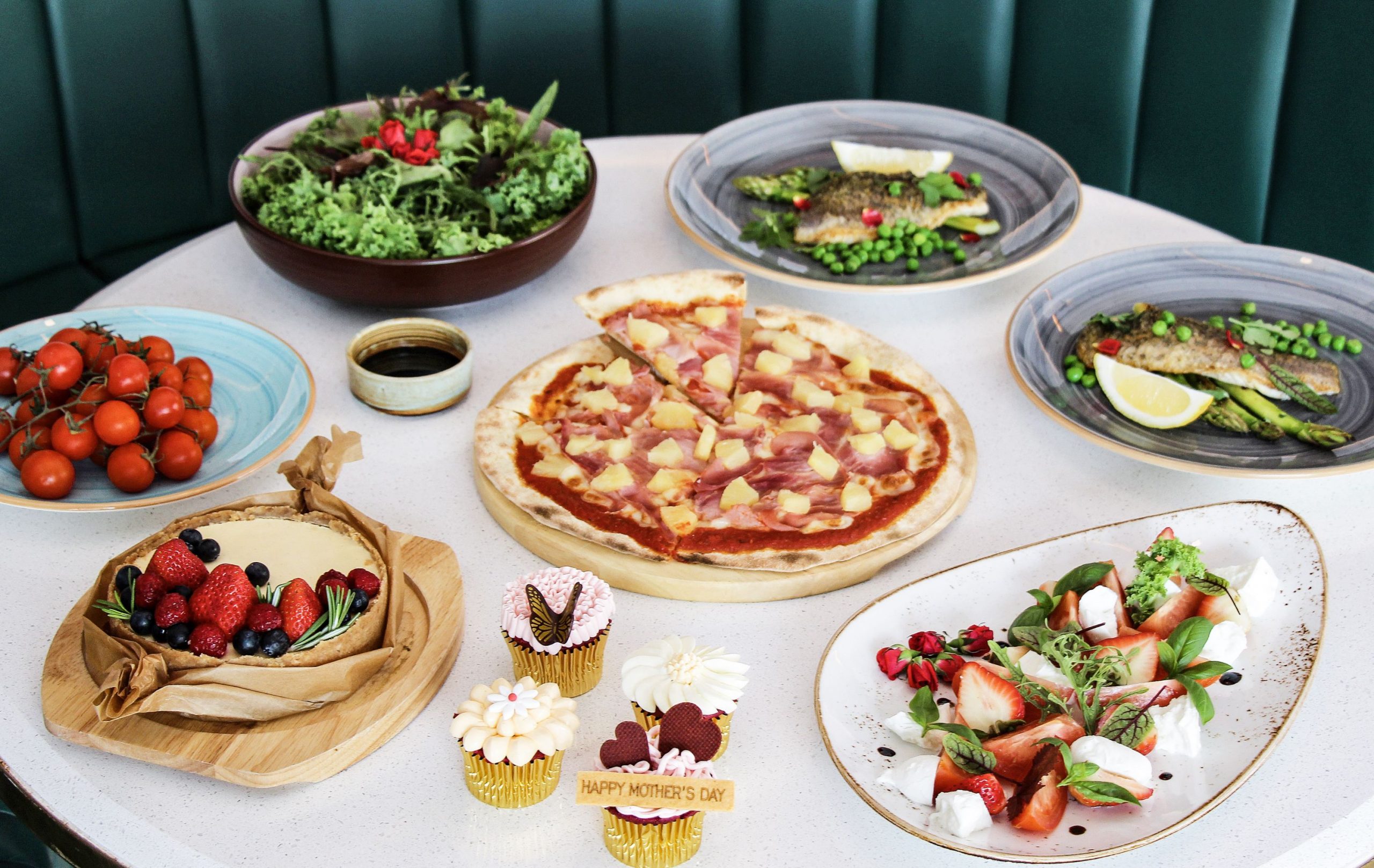 With Mother's Day fast approaching, it's time to plan on indulging Mummy even while staying home. Fairmont Singapore and Swissôtel the Stamford present the Mother's Day Recipe Kit Bundle. With easy-to-follow recipes and accompanying ingredients for an entire meal good for 4 persons, the recipe kits are perfect for bonding and having fun with the family over a labour of love in the kitchen that will surely touch Mummy's heart.
Take the celebration a step further with our beverage packages of 1 sparkling, red and sweet wine each. Those looking to purchase just a bottle can choose the Champagne Taittinger, Brut Reserve at $64.
View & Download Recipe Kits from Week 3
View & Download Recipe Kits from Week 2
View & Download Recipe Kits from Week 1
TOMATO-STRAWBERRY SALAD
Mozzarella Cheese, Aquaponics Salad, Basil Pesto (Serves 4)
Level: Easy * | Estimated Time: 20 minutes | Download Recipe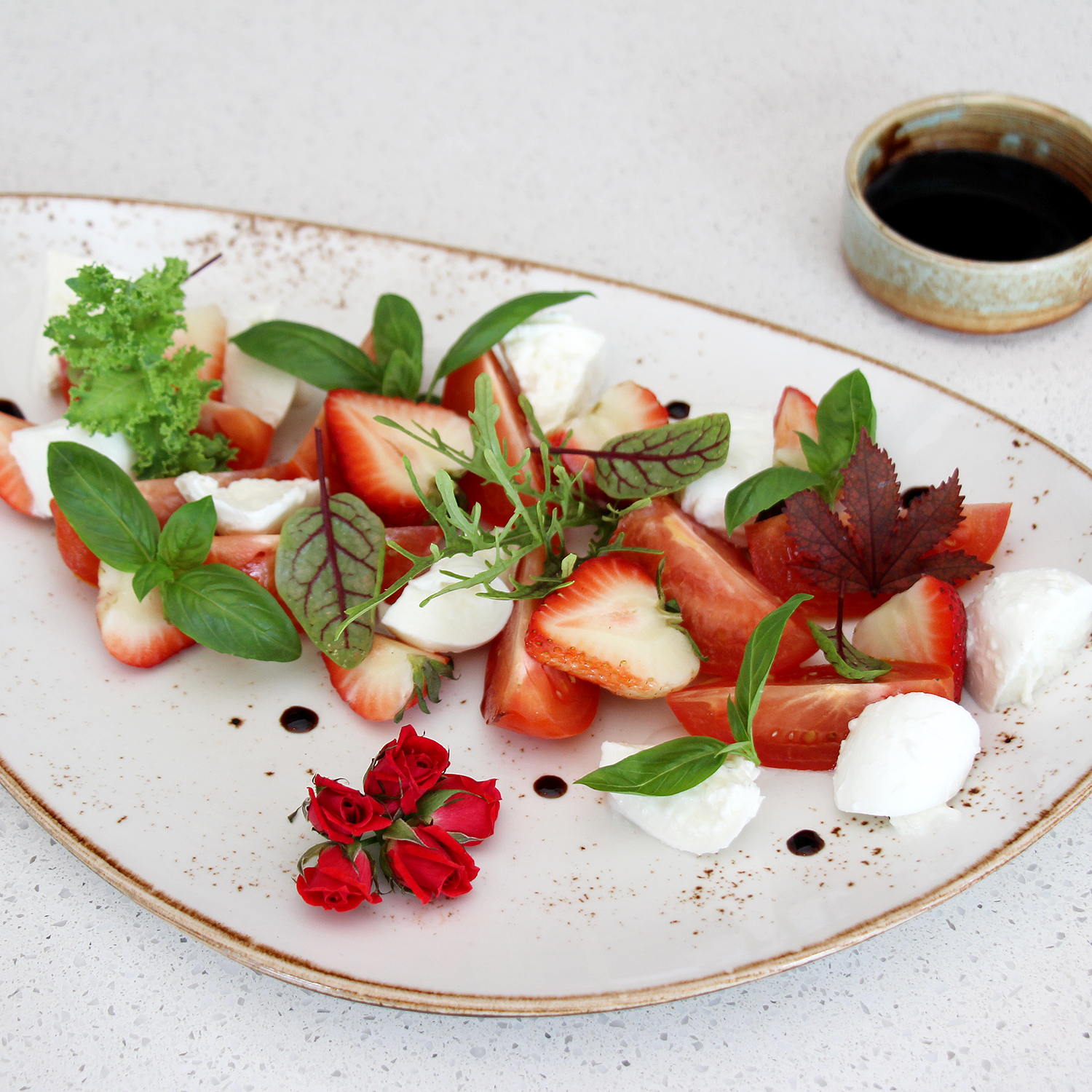 Savour the sweet flavours of Roma tomatoes, strawberries, complemented by mozzarella cheese; basil pesto and aged balsamic dressing. The salad comprises Aquaponics vegetables grown from the hotel's farm on Level 5. Fresh from our farm to your home, you get quality produce and get to taste the freshest, crisp greens that are pesticides-free.
Ingredients: 4 pcs Roma Tomato (sliced), 8 pcs Strawberry (sliced), 2 pcs Mozzarella Cheese (sliced), 2 sprigs Fresh Aquaponics Basil, 120gm Aquaponics Salad, 100gm Basil Pesto, 1 tbsp Olive Oil, Sea Salt (to taste), 25ml Aged Balsamic
Method:
1. Slice tomato, strawberries and mozzarella to your desired thickness. Arrange on a plate.
2. Dress the salad with pesto and basil leaves.
3. Finish off with olive oil, salt and aged balsamic.
4. Ready to serve.
HAWAIIAN PIZZA
Italian Ham, Pineapple, Oregano, Tomatoes, Mozzarella (Serves 4)
Level: Moderate ** | Estimated Time: 30 minutes | Download Recipe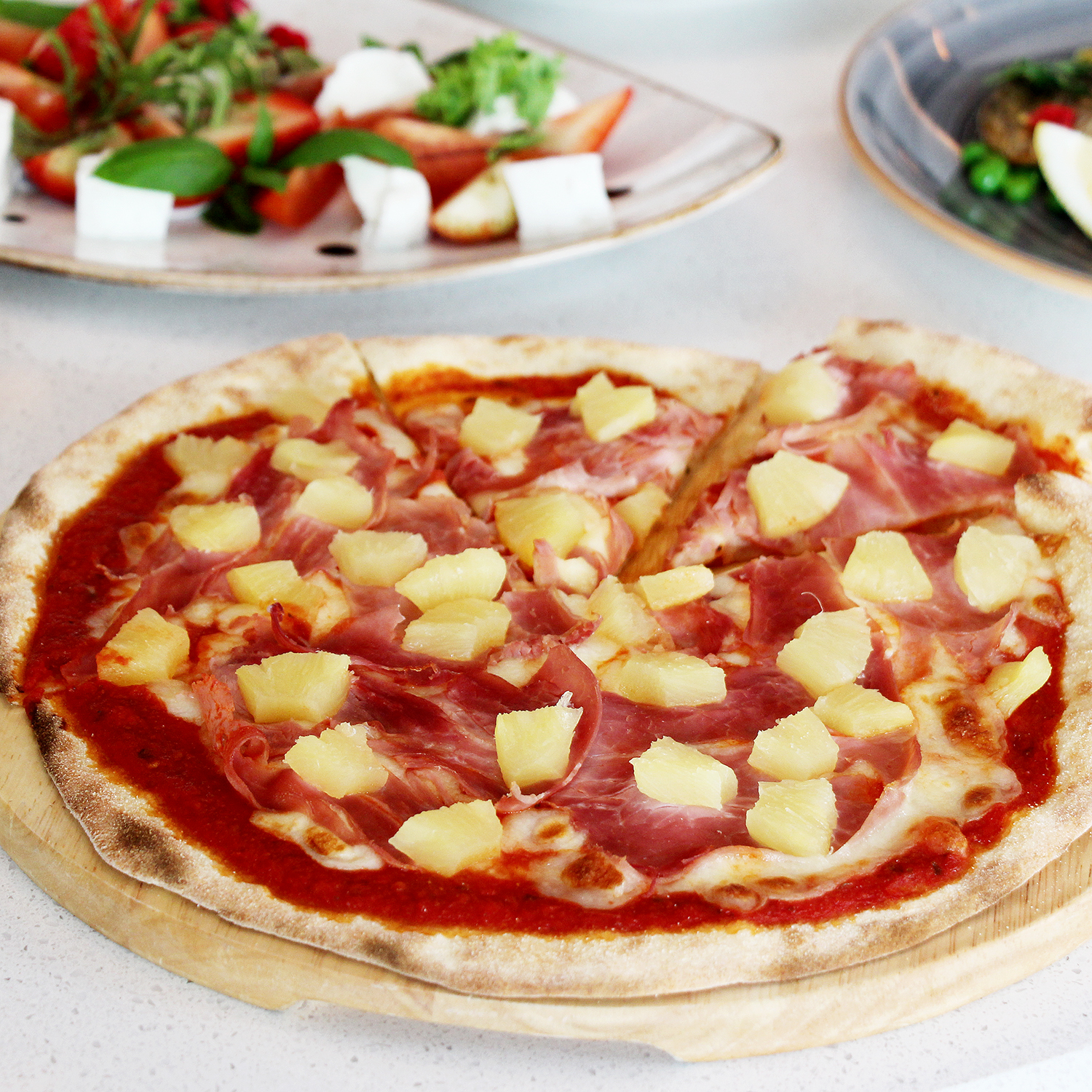 Knead and roll out Prego's homemade pizza dough as a family  – thin or thick crusted, your choice.
Ingredients: 2 pcs Prego Homemade Pizza Dough, 600gm Tomato Sauce Premix, 350gm Mozzarella Cheese (shredded), 200gm Italian Ham (Pork, sliced), 120gm Pineapple Cubes
Method:
1. Preheat oven to 230˚C.
2. Roll dough to desired thickness with flour if needed. Transfer to baking tray.
3. With dough on the baking tray, spread tomato premix evenly. Sprinkle with mozzarella, ham and pineapple.
4. Bake in oven for approximately 8 minutes (depending on size of oven and thickness of dough).
5. Remove from oven and cut to desired portions.
SEABASS
Smoked Miso, Asparagus, Peas, Lemon (Serves 4)
Level: Easy * | Estimated Time: 50 minutes | Download Recipe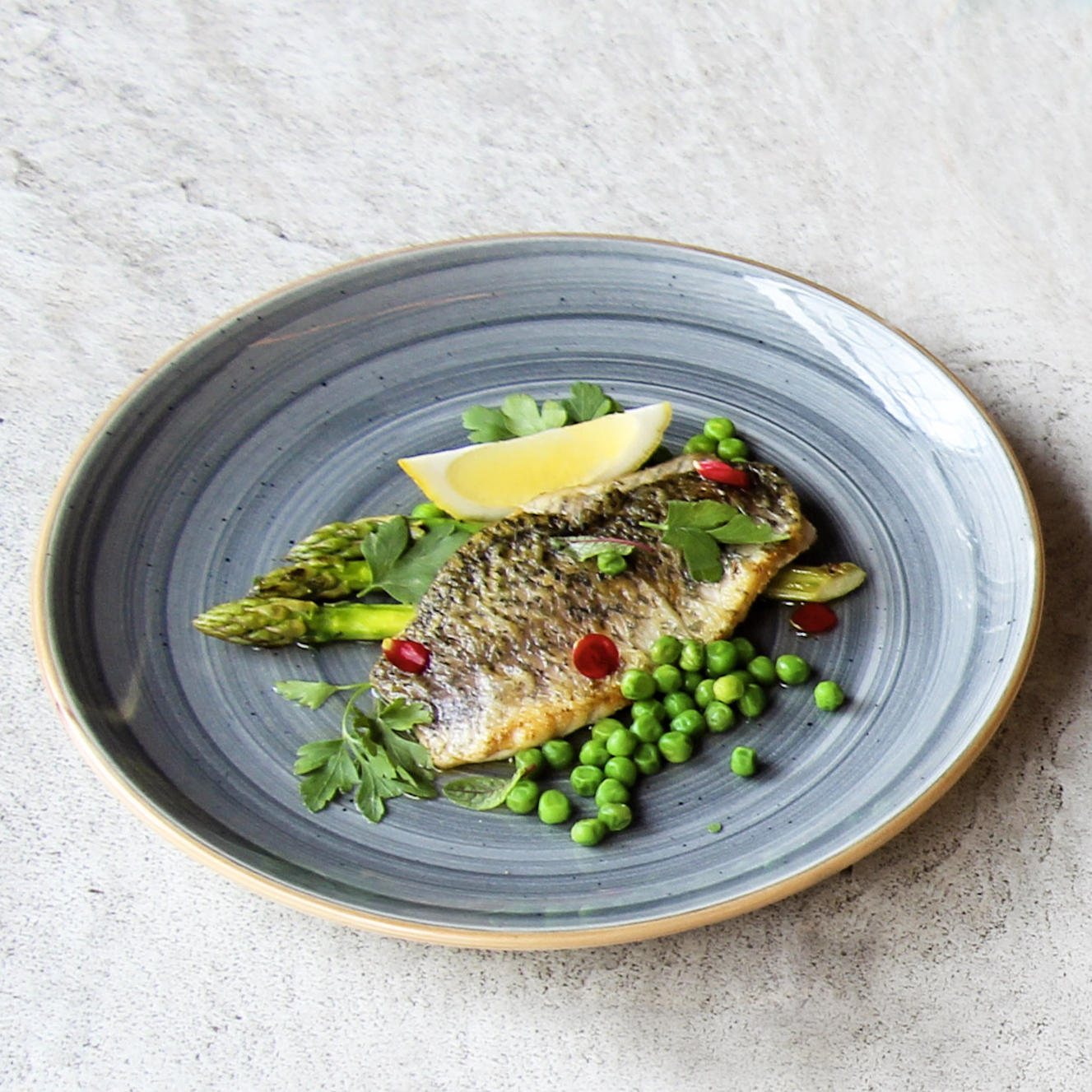 Be pleasantly surprised with the robust flavours from the smoked miso premix that complements the smooth seabass fillets perfectly.
Ingredients: 4 pcs Seabass Fillets, 300gm Smoked Miso Premix, 16 pcs Asparagus (trimmed), 300gm Green Peas, 1 litre Water, Salt (to taste), 2 pcs Lemon, Olive Oil, 40gm Unsalted Butter, 160gm Aquaponics Herbs
Method:
1. Preheat oven to 200˚C.
2. Marinate seabass fillets with smoked miso premix and set aside in fridge for 30 minutes.
3. Peel lemon and slice skin thinly. Cut lemon into wedges.
4. Boil water and salt. Blanch asparagus for 2 minutes then cool down immediately with ice water. Drain and set aside.
5. Bake seabass for 8 minutes. Heat olive oil in a pan on medium high heat. Add in asparagus and green peas. Season with salt, butter, lemon peel and juice. Transfer fish and vegetables to plate.
SIGNATURE CHEESE CAKE
Berries (Serves 4)
Level: Easy * | Estimated Time: 10 minutes | Download Recipe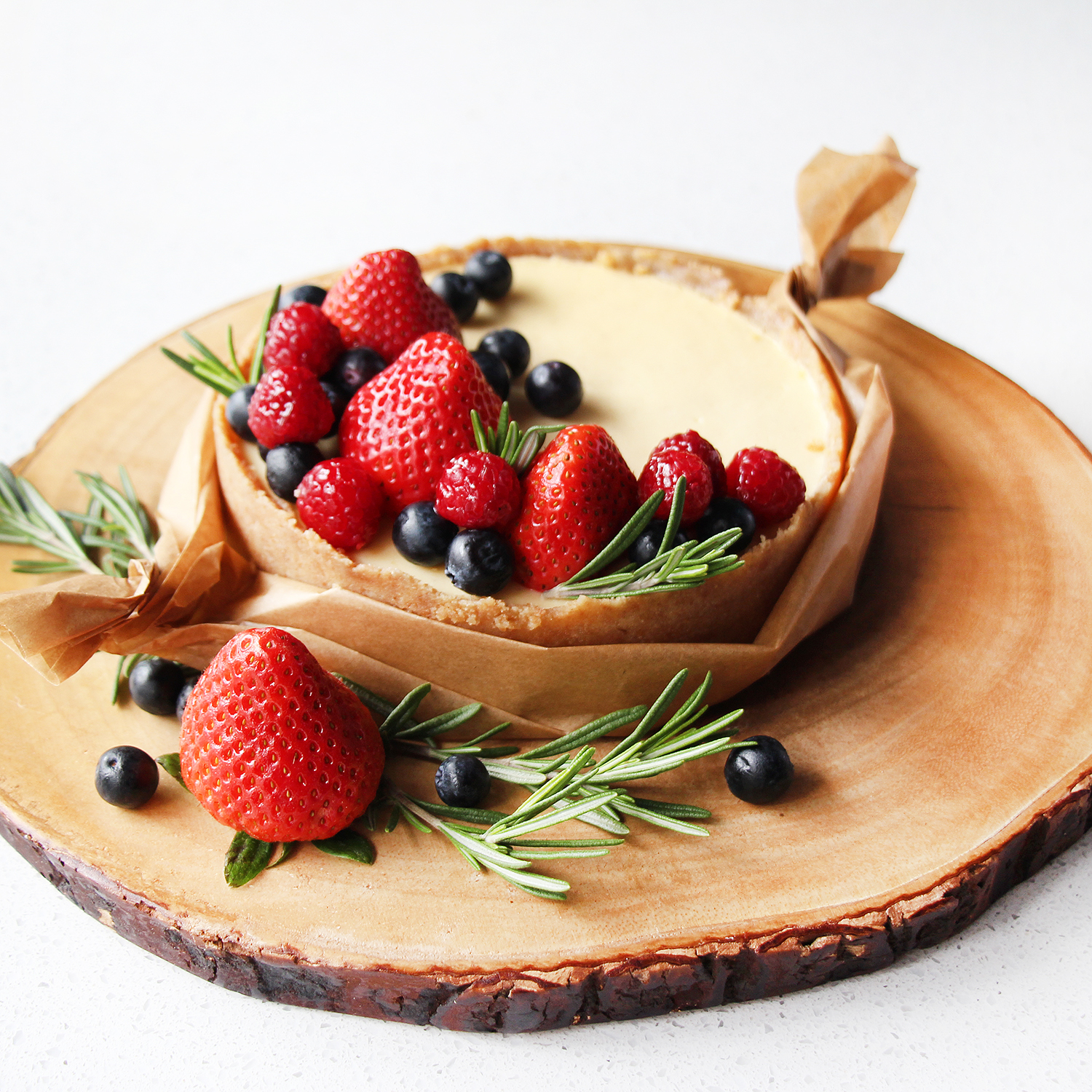 End the meal on a high with ready-made red velvet cupcakes and the hotels' signature Cheesecake. Do this activity as a family as you drizzle icing, buttercream and decorate the cupcakes with chocolate and sprinkles; and dress the cheesecake with berries.
Ingredients: 500gm Signature Cheesecake, 100gm Mixed Berries (cut if desired)
Method:
1. Dress the cake with berries and serve. Dip knife in hot water before slicing.
The Mother's Day bundle also includes Red Velvet Cupcakes that you can decorate with the accompanying icing.
Visit our online shop to purchase your recipe kits!
You can opt for island-wide delivery or pick up from Fairmont Singapore driveway without leaving your vehicle.